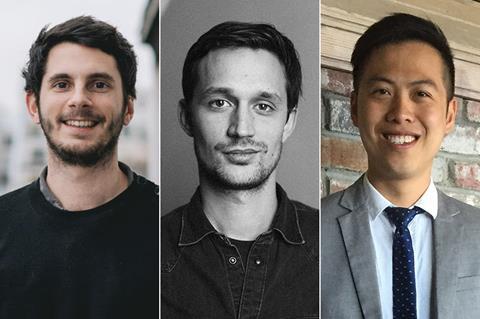 Mathieu Delaunay has been promoted to head of sales at Paris-based company Memento Film International (MFI), replacing Tanja Meissner who is stepping down from the role.
Former sales executive Alexandre Moreau has been promoted to VP of sales and marketing, taking the role previously held by Delaunay. The duo will oversee MFI's slate of films and marketing strategy, alongside company CEO and owner Emilie Georges.
The company is also expanding its sales team with the hiring of Derek Lui to lead sales in Asia, (excluding Japan, which will continue to be handled by Moreau). Lui, who was named a Screen Future Leader in sales in 2017, was formerly president of sales at Copenhagen-based sales company LevelK.
In other staff changes, Sata Cissokho has been appointed head of acquisitions, after serving as MFI's festival manager for six years. The company also noted the arrival last year of Sophia Jabrane as international distribution manager, to oversee distributor relations and international releases, and the hiring of Gaëlle Palluel as the new festival manager.
The restructuring of the MFI team – which coincides with the company's 15th anniversary year - is the result of a process initiated a year ago in response to the changing market as well as Meissner's desire to follow other personal projects after 12 years at the company.
To ensure a smooth transition, Meissner will be working with the sales team at the Unifrance Rendez-vous with French Cinema in Paris (Jan 16-20), the EFM and Cannes this year.
Company chief Georges noted that during Meissner's time at the company, MFI's slate won four Oscars, two Palme d'Ors, one Golden Bear and one Golden Lion.
"I wish the best of luck and irradiant energy to the new chapter of Tanja's life and we fully support this change in her career," said Georges. "She has been instrumental to the ongoing success of our sales department and to the brand in general all these years."
Meissner, who is a well-known figure on the international independent film sales scene, said she had enjoyed 12 years of "extraordinary collaboration" with Georges.
"Under a blue sky of the Croisette, I had the chance to meet and to collaborate and even start friendships with some fabulous human beings," she said. "I have learned a tremendous amount and I'm proud of the dozens of incredible movies that we have been able to represent during this time."
Prior to joining MFI, Meissner was a sales executive at Celluloid Dreams (2001-2007) and a long-time collaborator of Wieland Speck at the Berlinale section Panorama (1995-2000).
Georges said her replacement Delaunay was stepping into the head of sales role at a transformative time for the market.
"The act of selling a film is a very global skill that requires an ongoing strategic vision, very high adaptability and reactivity and a deep understanding of the creative process," she said. "The challenge is high but I trust Mathieu and Alexandre, who are a great double act, to not only continue our boutique work with fantastic auteurs but also to offer new business practices."
Delaunay said the company's aim going forward was to offer distributors eight to 10 films per year, with strong concepts and original scripts. "2020 is a year of celebration as it marks our 15 years of existence and love for cinema, and I can't wait to announce our new filmmakers and unique projects," he said.
The company's current line-up features Martin Provost's Juliette Binoche-starring comedy-drama How To Be A Good Wife, which opens the Unifrance Rendez-vous With French Cinema on Thursday evening, World War Two drama Persian Lessons by Vadim Perelman and My Salinger Year by Philippe Falardeau.