NZ producer Tom Hern among trio recommended for UK's Production Finance Market.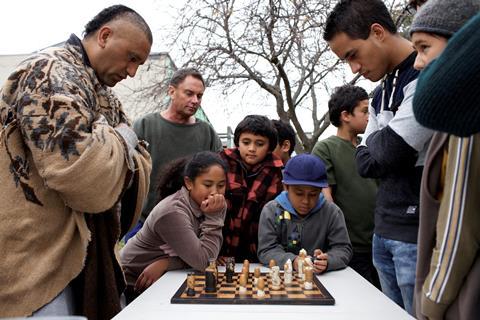 A group of international sales agents has voted NZ producer Tom Hern (The Dark Horse) of Four Knights Films as the producer from the 65th Melbourne International Film Festival's 37º South Market whose slate should be pitched at the UK's Production Finance Market (PFM) in October.
Hern will head to London to pitch the Four Knights slate of projects, which includes an action road-comedy, Pork Pie, and a whimsical post-WWII story of an 11 year-old Irish orphan émigré newly arrived in New Zealand, A Long Way Home.
Hern previously produced well-travelled 2014 drama The Dark Horse, which played at Toronto, Rotterdam and CPH PIX.
Producers Philippa Campey (The Turning) and Jamie Houge (The Lookalike) have also won places at PFM, but did not receive travel assistance. Campey will take her Film Camp slate of features and documentaries to London, and Houge will seek co-production partners for her Edinburgh-set female detective thriller Switchblade Electric.
The 65th MIFF wrapped its programme on August 14, after a 17-day event that straddles industry and public screenings across Melbourne's CBD. The MIFF 37°South Market suite of industry programmes included an accelerator program for short filmmakers to make the leap into feature filmmaking, and an initiative to link book publishers with screen producers with a view to facilitating more literary adaptations.
The MIFF public screenings programme included the world premiere of films backed by the festival's own MIFF Premiere Fund. This year's crop of films include: the feature documentary The Family, a Screen Australia, Film Victoria and BBC Storyville-supported story about the investigation of a well-connected apocalyptical cult leader; Monsieur Mayonnaise, a documentary about prominent Melbourne arts patron Georges Mora that highlights his heretofore unknown feats of heroism for the French Resistance during World War II; the philosophical quasi-sci-fi love story The Death And Life Of Otto Bloom, which opened the festival on July 28 to tepid reviews.
Local launch pad
With its mid-winter spot on the Australian calendar, MIFF serves as a launching pad for imminent local releases. This year, Abe Forsyth's race riot comedy Down Under played to divisive reviews one week ahead of its theatrical release, having also played at the Sydney Film Festival in June. The film is a fictionalised account of the aftermath of Sydney's infamous Cronulla Riots that made international headlines in December 2005.
Rosemary Myers' Girl Asleep first premiered at the Adelaide Film Festival in 2015 and has enjoyed strong word of mouth from sold-out screenings at Sydney and again at MIFF. The 1970s-set film takes place within the dreamworld of a mortified 14 year-old girl, and it is set for a theatrical release in September through Umbrella Entertainment.
In the horror genre, MIFF featured the world premiere of Killing Ground, a solid terror-in-the-outback thriller in the vein of Wolf Creek, from first time feature writer/director Damien Power. Mushroom Pictures, distributor of the original Wolf Creek, has secured Killing Ground for theatrical distribution in Australia, with a likely release date of March 2017.
The international MIFF programmeme included Australian premieres of Terence Davies' Sunset Song, and Berlin best director winner, Mia Hanson-Love's Things To Come. They played alongside Cannes titles such as Paul Verhoeven's Elle, Nicolas Winding Refn's The Neon Demon, Alain Giuraudie's Staying Vertical, and Cristian Mungiu's Graduation.
The documentary programme included Golden Bear winner Fire at Sea, and Irene Taylor Brodsky's true crime/technology cautionary tale Beware The Slenderman, which premiered at SXSW.
The Festival wrapped on August 14 with the premiere screening of David McKenzie's Hell Or High Water, which has been acquired for local distribution through Madman Films.