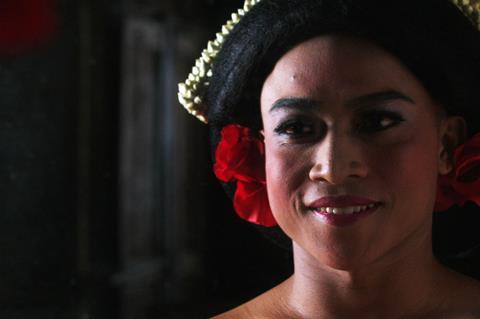 Indonesian filmmaker Garin Nugroho's Memories Of My Body has been banned in five provinces in Indonesia and is being attacked on social media by groups claiming that it spreads LGBT propaganda.
The film, which opened on April 18, was given a 17+ rating by the Indonesian film censorship board, but has since been banned by officials in the provinces of Depok, Kubu Raya, Pontianak, Palembang and Riau.
Produced by Ifa Isfansyah's Fourcolours Films, Memories Of My Body premiered at last year's Venice film festival in the Orizzonti section and also played festivals including Busan and Rotterdam. It was awarded the UNESCO Cultural Diversity Award at the 2018 Asia Pacific Screen Awards (APSA).
It tells the story of a male dancer in the 'Lengger' classical dance tradition, in which men play both male and female roles, and examines themes of sexual identity and the nature of masculinity.
The Depok administration in West Java requested an immediate ban of the film for presenting "deviant sexual acts and blasphemy" while the Palembang administration in South Sumatra said it "includes negative content that will likely influence the younger generation."
A spokesperson for the Indonesian Ulema Council (MUI) has also raised objections to the film. MUI family and youth affairs head Arovah Windiani said she had received complaints from the public and that "viewed from the moral values [the film brings], it should not be out there".
Earlier this week, the Indonesian Film Directors Club issued a statement voicing concerns about suppression of free speech in Indonesia. Several other films, including Helfi Kardit's Suster Keramas and Hanung Bramantyo's Tanda Tanya, have recently been criticised by Islamic groups, and as a result were pulled from theatres in some regions or were forced to make cuts.