Film opens this week in US through Bleecker Street.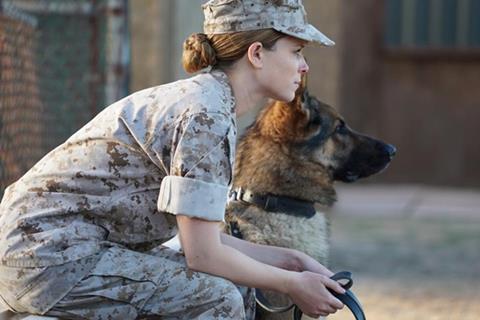 Meridian Entertainment has acquired Chinese theatrical rights from Sierra/Affinity to the drama Megan Leavey starring Kate Mara.
LD Entertainment produced and financed the film, which opens in the US this week via Bleecker Street and is based on the true life story of a young Marine officer and her military combat dog.
Leavey was assigned to the Army's K9 unit after a disciplinary hearing and formed a strong bond with a particularly aggressive dog, Rex. Together, they saved many lives on deployment in Iraq. Edie Falco, Ramón Rodríguez, Bradley Whitford, and Common round out the key cast.
Gabriela Cowperthwaite of Blackfish fame directed from a screenplay by Pamela Gray and Annie Mumolo and Tim Lovestedt.
Meridian Entertainment will release the film through its distribution arm United Entertainment Partners in the fourth quarter of the year.
Nicholas Sherry negotiated the deal on behalf of Sierra /Affinity.
"We are delighted to have the opportunity to bring this inspirational and heartwarming film to the mass Chinese audience," Meridian Entertainment and UEP chairwoman Jennifer Dong said.
"As one of the most experienced and professional Chinese buyers and distributors, Meridian and UEP continue to focus on acquiring newly developed and produced titles worldwide and distributing them theatrically in China. With our unparalleled capability and expertise in securing quotas, distributing nationwide, and employing effective marketing strategies and campaigns for all of the titles we acquire, Meridian and UEP strive to be the major supplier for the best foreign films the global market has to offer in China."
Meridian's investments in film include Sundance hit documentary Casting JonBenet, Cannes Midnight screening A Prayer Before Dawn, and select Chinese films such as Running Man and Mojin: The Lost Legend.
Meridian recently signed a multi-year, multi-film agreement to co-finance all Blumhouse films made outside its first-look deal with Universal Pictures. Their first project is a retelling of family film Benji.
Meridian also has a first-look and strategic partnership with James Schamus through his company, Symbolic Exchange.