The end of the decline in linear TV viewing among millennials is in sight, according to a Deloitte report.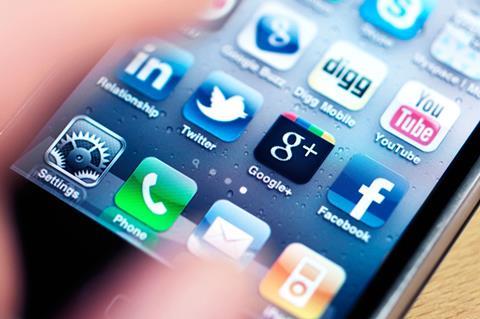 The consultancy's annual Television, Media and Telecoms Predictions report has predicted that 18-24 year-olds' TV viewing will continue to fall for a further two years before plateauing as 'digital distractions' reach saturation point.
Millennial viewing of live and time-shifted TV programming in the UK, US and Canada will continue to drop by 10-15%, consistent with the previous seven years, until 2020, Deloitte claimed.
After this point, the decline will slow or flatten altogether as smartphones, SVoD services and social media reach peak usage levels.
Deloitte noted that use of social media services such as Snapchat, Instagram and Facebook among the demographic had stood at around 60 minutes per day since December 2016. Some 95% of 18-24s now own a smartphone, with little opportunity for further growth.
Paul Lee, head of research for technology, media and telecommunications at Deloitte said: "Many forces that distracted young people away from traditional TV, such as smartphones, social media and video piracy, have peaked. Digital distractions will remain, but their impact is unlikely to increase further."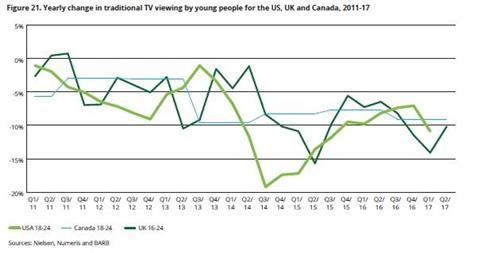 The report predicted that while consumption of short-form services in the US rose from 1.6 hours per week in 2013 to 5.7 hours in 2015, this growth trajectory was unlikely to continue.
Lee called on the industry to adopt different measurement approaches to accurately capture viewing among younger demographics.
"Broadcasters, distributors and advertisers have to react to changing consumer habits," he said. "To this end, measurement's scope will need to expand to include reactions to viewing, as well as minutes viewed."
The report suggested that cross-platform measurement of TV could add 5-7% to viewing figures.
While 18-24 year olds watch between 80-120-minutes of linear TV per day, Deloitte warned that viewing among children was plummeting
"If the habits of this next generation persist over the next few years, our projections for stable or even less severe declines could be wrong," the report said.
This story first appeared on Screen's sister publication Broadcast.