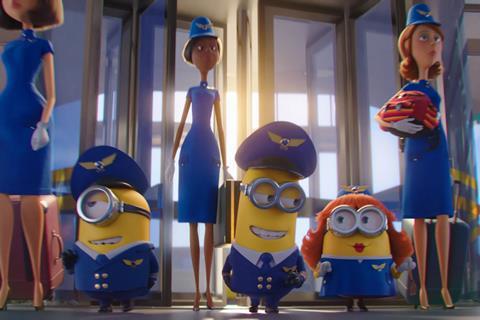 | | | | | |
| --- | --- | --- | --- | --- |
| Rank | Film (distributor) | Three-day gross (July 22 - 24) | Total gross to date | Week |
| 1. | Minions: The Rise Of Gru (Universal) | £3.09m | £28.2m | 4 |
| 2. | Thor: Love And Thunder (Disney) | £3.05m | £26.5m | 3 |
| 3. | Where The Crawdads Sing (Sony) | £1.3m | £1.4m | 1 |
| 4. | Elvis (Warner Bros) | £1.2m | £18.4m | 5 |
| 5. | Top Gun: Maverick (Paramount) | £1.1m | £74.2m | 9 |
Universal animation Minions 2: The Rise Of Gru retook the UK-Ireland box office lead from Disney's Thor: Love And Thunder this weekend, as several holdovers were boosted by the start of the school holidays across much of the territory.
Minions 2: The Rise Of Gru scored a strong 15.9% increase on its last session, adding £3.09m on its fourth weekend to reach a £28.2m total. The film has benefitted from a social media trend of groups of boys and young men going to screenings dressed in suits; the trend may have returned to help the recent uptick, with many schools on summer holidays from the middle of last week.
The film is beyond the £20.2m of 2010's Despicable Me, although the totals of 2013's Despicable Me 2 (£47.5m), 2015's Minions (£47.8m) and 2017's Despicable Me 3 (£47.9m) will most likely still be out of reach.
Minions 2 pipped Thor: Love And Thunder to first place by less than £35,000. The Disney blockbuster landed in second with £3.05m on its third weekend – a 25% drop on last time out. It now has £26.5m in total, and is the 15th -highest-grossing of 28 Marvel Cinematic Universe titles to date. Next ahead of it in that list is 2014's Guardians Of The Galaxy with £28.6m.
Sony's literary adaptation Where The Crawdads Sing opened to a £1.3m weekend – enough for third spot, and the first new title to break into the top five since July 11.
It opened in 691 locations, becoming the widest female-directed release of all time; and recorded a location average of £1,932. The film has £1.4m including previews.
Warner Bros' Elvis was another title to increase its takings, with an excellent 23% uptick of £1.2m. It is now up to £18.4m from five weekends, and will look to break the £20m within the next week – a feat that looked unlikely even when it opened to first place last month.
Top Gun: Maverick recorded the best increase in the top 10, going up 34% with a £1.1m weekend. It now has £74.2m in total, overtaking 2010's Toy Story 3 to become the 11th -highest-grossing film of all time. Titanic (£80.3m) will be its target for a final top-10 finish.
The top five took a cumulative total of £9.8m, up 9.9% on last weekend's £8.9m. It is also the first weekend since mid-February that all of the top five films have taken at least £1m.
Prima flourishes
Having become the highest-grossing event cinema release since the pandemic through its £1.4m Thursday opening, NTLive's Prima Facie starring 2016 Screen Star of Tomorrow Jodie Comer added £449,268 at the weekend, with 59 sites still to report. It took a screen average of £1,291 - a strong result for a non-film title; and is up to a cumulative total of over £1.8m.
Jurassic World: Dominion dropped out of the top five but still scored a 14.1% increase for Universal, with £436,035 bringing it to £33.2m from seven weekends.
Studiocanal's The Railway Children Return took just a 13% drop on its opening weekend, bringing in £315,775. It now has £1.1m in total.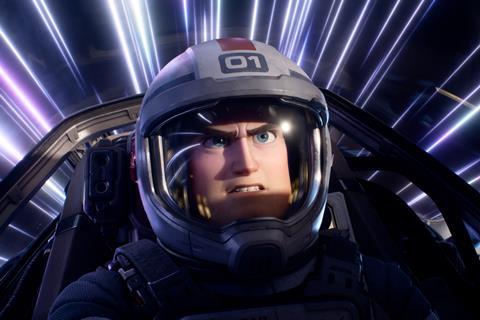 Disney's Lightyear recorded an excellent 33.5% surge, taking £216,245 to reach £9.7m from six weekends.
The Black Phone added £175,618 – a 17.7% increase – for Universal, and is up to almost £3.9m from five weekends.
UK comedy Brian And Charles added £23,710 on its third weekend, and is up to £208,623 for Universal.
Lionsgate's Good Luck To You, Leo Grande is still in cinemas after six weekends, adding £16,878 to reach £982,250. One more weekend of screenings should see it pass the £1m total.
For Altitude, documentary Kurt Vonnegut: Unstuck In Time opened to £7,433 across 25 locations, and £9,291 including previews.
BFI Distribution's release of Satyajit Ray's 1963 title The Big City took £6,426 from eight sites.
Charlotte Colbert's UK-US thriller She Will opened to a £6,037 weekend from 15 sites, with £7,570 including previews.
Last week Sony's release of anime Fruit Basket brought in £23,500 on Wednesday and Thursday.