It's a Universal one-two at the top of the chart as Jurassic World becomes year's biggest film with $76.8m (£48.9m) haul to date.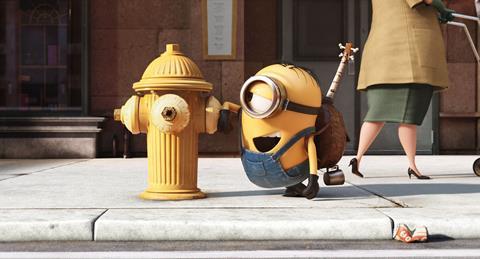 UNIVERSAL
Defying the good weather, Minions posted the fifth biggest opening of the year as it debuted top of the UK box office.
Universal's animation spin-off from the popular Despicable Me series grossed a superb $18.1m (£11.6m) from its 573 sites, meaning that the distributor now boasts four of the five biggest openings of the year to date.
The result means Minions has recorded the biggest ever three-day opening for an animation in the UK.
Despicable Me 2's $23.3m (£14.8m) bow from 534 sites, but that included $7.7m (£4.9m) in previews. Based solely on Fri-Sun takings, Minions took more than Despicable Me 2's $15.7m (£9.98m).
Minions will now look to try and challenge Despicable Me 2's $74.3m (£47.3m) UK result, and could be aided by a relatively clear run at the family market until the arrival of Disney's Inside Out on July 24.
While Jurassic World may have been dethroned at the top of the weekend chart it now resides at the top of the 2015 box office with the year's biggest gross to date.
Thanks to a $9.1m (£5.8m) third weekend, Jurassic World has now reached a huge $76.8m (£48.9m) after 18 days in play, surpassing Avengers: Age of Ultron's $75.7m (£48.2m) current running total. It also has become the biggest film in the Jurassic Park series, overtaking the original's $75.2m (£47.9m) result (excluding re-releases).
In the coming days, Jurassic World will also become the first film since The Hobbit: An Unexpected Journey to cross the £50m mark in the UK.
Pitch Perfect 2 has reached $27.2m (£17.3m) after seven weeks in play.
FOX
Remaining in third for the second week running was Spy with a $990,000 (£630,497) fourth weekend. Fox's action comedy is now up to a sturdy $13.5m (£8.6m) having held well in the face of blockbuster competition.
Also for Fox, Secret Cinema's production of The Empire Strikes Back rounded off this week's top five with $433,000 (£275,875) for $2.2m (£1.42m) to date, while The Longest Ride fell around 50% with $323,000 (£205,549) for a ten-day tally of $1.6m (£989,220).
Home has now amassed $38.6m (£24.6m), but will soon see its reign as 2015's biggest animation ended by Minions.
EONE
Falling 46% on its second weekend, eOne's Mr. Holmes took an extra $624,000 (£396,982) for a ten-day tally of $2.7m (£1.7m).
Also for eOne, Insidious Chapter 3 has now scared up $6.1m (£3.9m) after four weeks in play.
WARNER BROS
Falling over 50% in its second weekend, Warner Bros' Entourage added $426,000 (£271,000) for a ten-day tally of $2m (£1.26m).
Also for Warner Bros, San Andreas rocked to a further $308,000 (£196,000) for $17.5m (£11.2m) to date, while Mad Max: Fury Road has now journeyed to $27m (£17.2m).
ENTERTAINMENT
Eli Roth's Knock Knock recorded a soft $394,000 (£250,825) debut from its 264 sites through Entertainment Film Distributors.
That marks Roth's lowest-ever UK opening, behind Hostel Part II's $1.1m (£681,426) bow from 263 sites.
LIONSGATE
Critically acclaimed neo-Western Slow West enjoyed a healthy start to its UK run with $221,000 (£140,858) from its 69 sites, including $10,000 (£6,565) in previews, through Lionsgate.
Slow West could post decent numbers midweek given its older-skewing audience, but it may be hit by the predicted good weather this week.
Also for Lionsgate, She's Funny That Way posted a UK debut of $35,000 (£22,311) from its 19 sites.
SCREENLIVE ENTERTAINMENT
Following its record-breaking opening, ScreenLive Entertainment's Take That Live added $95,000 (£60,496) from 202 encore screenings last night [June 28] and has now grossed $1.6m (£1.03m).
GOING CLEAR
Sky Atlantic's controversial Scientology documentary Going Clear: Scientology and The Prison of Belief posted a UK opening of $26,000 (£16,849) from its 15 sites, including $1,300 (£838) in previews.
DOGWOOF
Released in three sites through Dogwoof, Station to Station grossed $5,200 (£3,341) on its UK bow, including $2,400 (£1,502) in previews.
Figures for The Look of Silence are still to be confirmed.
UPCOMING RELEASES
This week sees saturation releases for Paramount's Terminator Genisys (opens July 2) and Warner Bros' Magic Mike XXL, while Altitude's Amy receives a wide release.
Metrodome's Housebound, Soda Pictures' Still the Water and BFI's Magician: The Life and Work of Orson Welles are among the films receiving a limited release.