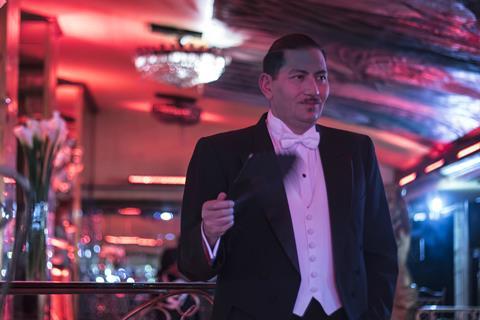 DECEMBER 1 UPDATE: Seeking to boost the profile of Latin American genre cinema, Mórbido Film Fest founder Pablo Guisa Koestinger is in Ventana Sur exploring an unprecedented way to kick-start the commercial prospects of his festival's world premiere selections.
Guisa is meeting potential sales agents and distributors at the Buenos Aires market, where he presented on Thursday an award to fund a comic book version of M.M. Izidoro's pitch for A Musica Do Dia (Brazil) in genre sidebar Blood Window's Beyond The Window section.
"If you have your world premiere with Mórbido we will send at the same time as the world premiere a link to interested sales agents and distributors who then have 24 hours in which to make an offer," Guisa told Screendaily.
Toronto-based Raven Banner and Paris-based Reel Suspects are understood to be on board and will try out the proposal at the 11th Mórbido Film Fest, scheduled to run from October 31-November 10, 2018.
The initiative will apply only to world premieres of Latin American selections at Mórbido. Interested parties – who will be able to watch the film from anywhere in the world – will negotiate directly with a film's producers. Mórbido will not take a fee for the service.
Guisa has cultivated strong ties with sales agents and distributors over many years in his capacity as festival founder and head of the Mórbido Films distribution and production venture.
"The idea is to help movies and create a focus on Latin American cinema and give them a chance to get better sales," he said. "The only way we're going to have a strong industry is if we're together. The genre industry is a family and at the same time we're a consumer niche worth billions of dollars.
"The movement of content creators and distributors in Latin America is starting to get organised in a more industry way. In its fifth year, Blood Window here at Ventana Sur proves it is working: there were several films that presented in the first year and then they got funding and they were released by the third or fourth years."
Mórbido has built up a social media following of 3.9m across Latin America and the director general of Grupo Mórbido has not been slow to parlay that into other platforms besides the festival and distribution arm. In January the entrepreneur launched Mórbido TV channel on Mexico's Totalplay cable network, and has soft-launched an app that is scheduled to officially go live next spring. Mórbido also runs a radio station and magazine.
"At Mórbido one of my main goals was to provide a window into exciting things that are happening in Latin America," he said. "We are the door to the United States – even with a wall, we are still the door to the United States. We're a perfect place from which to jump to Hollywood."
Mórbido Film Fest's recent tenth anniversary edition screened world premieres of Trauma from Chile and Aterrados from Argentina, Demian Rugna's film that won the inaugural Mórbido-Cinepolis Distribution Award.
Guisa continues to explore other ways to better promote Latin American cinema on the world stage and foster strong ties with local content creators, and just struck an exclusive production partnership with Mexican producer Mónica Lozano, whose credits include Instructions Not Included.