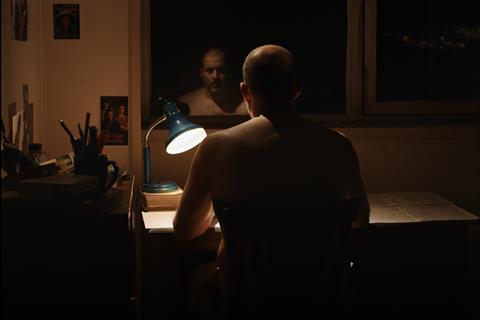 Paris-based MPM Premium has acquired world sales rights to Iranian directors Bardia Yadegari and Ehsan Mirhosseini's drama District Terminal ahead of its world premiere in the Berlinale's Encounters competition next week.
Drawing on Iran's current reality but set in a dystopian future, it revolves around a poet living with his mother in an old part of Tehran, struggling with drug addiction, poverty and a love affair that has exhausted him.
Yadegari, who plays the protagonist, and Mirhosseini shot the allegorical, autobiographical work in their homes and neighbourhood, casting friends and family who play characters drawn from their real-life experiences.
Its atmosphere and mood was influenced by contemporary events such as the US embargo on Iran, rampant inflation but the project was conceived before Covid-19 and began shooting before the pandemic hit.
It is produced by Iranian producer Farzad Pak at Pak Film, who produced Mohammad Rasoulof's 2020 Berlinale Golden Bear winner There Is No Evil, and Amin Mirhosseini at Film in Iran.
Screenwriter, director and poet Yadegari's recent credits include co-writer on 2020 feature Enemies. He also acted and assisted in drama There Is No Evil as did co-director Mirhosseini, who entered cinema as a film critic before turning to screenwriting and directing.
MPM will unveil to buyers the film at Berlinale's industry-focused, online-only event running March 1-5, which is scheduled to be followed by physical screenings at a summer event in June.
In other recent additions to the MPM slate, the company is also handling world sales of Moroccan director Al Hadi Ulad Mohand Life Suits Me Well.
Set in the mid-90s in a small northern Morocco town, it stars French actor Samir Guesmi as a local postal worker who is diagnosed with a neurodegenerative disease, opposite Lubna Azabal (Incendies, Adam) as his wife. He, his wife played by Incendies star Lubna Azabal, and children embark on a new chapter, filled with love, sorrow and memories but also life.
Produced Karim Debbagh at Tangier-based Kasbah Films, it won the top post-production prize at El Gouna's CineGouna SpringBoard project event last October.
In a first deal for the film, MPM Premium recently sold MENA region rights to Mad Solutions.
Other titles on the company's slate include Brazilian timely drama The Pink Cloud, about a population confined to their homes by a deadly cloud, which debuted in Sundance this year, and Venice International Critics' Week Grand Prize winner Ghosts.