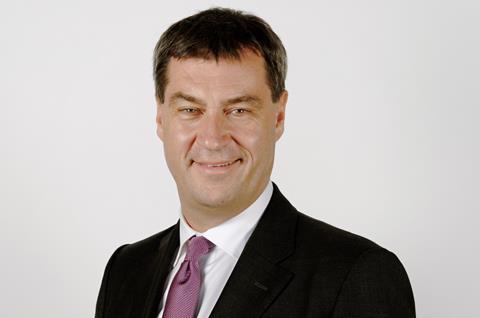 Comments by Bavaria's prime minister Markus Söder about the future positioning of the Munich Film Festival were one of the talking points at cocktails and parties held over the Filmfest's first weekend (June 27-July 6).
In an interview with the local Munich newspaper Süddeutsche Zeitung, Söder argued that Munich should not be satisfied with second place behind the Berlinale.
"First of all, we have to catch up. Then you can still overtake," he declared. "In addition to the Berlinale, there are various other top European festivals that are working very successfully: Cannes and Venice, for example. Munich should also find its place there."
Söder suggested Munich could reach the same level as Cannes or Venice "in a few years… if we develop a more independent profile with new ideas and an intensive marketing concept."
In response to Söder, Filmfest director Diana Iljine stressed in a statement to Screen International that Munich does not see itself in competition with Berlin: "We have a different orientation and take place in the summer, which is why there is hardly any competition. Here we have the luxury that the audience can experience the stars up close – and we want to be able to guarantee that for the future."
"Further development as a festival does not necessarily mean growth in figures," added Iljine. "It's all about changes in content and reorientation in order to remain relevant in the market. We want to keep up with the times and integrate new content into our festival."
Söder noted that the Bavarian Free State had increased its funding to the Munich Film Festival by €3m in 2018/2019, and was now looking for additional support from the City of Munich and the federal government. "It can't be the case that practically only the Berlinale benefits from federal film funding," he said.
In fact, State Minister for Culture and Media Monika Grütters provides financial support for other festivals apart from the Berlinale including DOK Leipzig, International Oberhausen Short Film Festival, the Max Ophüls Prize Film Festival for up-and-coming German-language cinema, and the Golden Sparrow, Lucas and Schlingel festivals for children and young people.
Meanwhile, the Filmfest is faced with the prospect of having to find a new festival centre from 2021 as the current venue at the Gasteig Arts Centre is due to undergo a general refurbishment set to cost up to €500m.
Speaking about plans for an alternative main venue for the Filmfest, Iljine says they "want to be in the heart of the city and we want to appeal to even more audiences. In a city like Munich, however, there are not so many places that are suitable for such a temporary festival centre but we are working on some ideas in the background and talking to important potential cooperation partners."