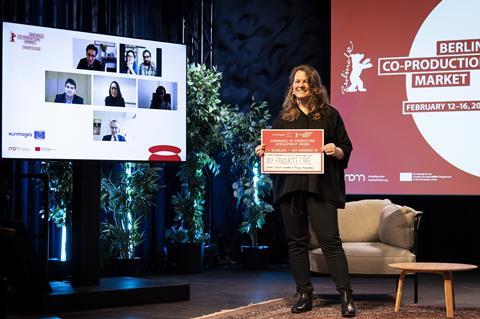 The Berlinale Co-Production Market has awarded its top prize to French-Iranian project My Favourite Cake.
The feature took home the Eurimages Co-Production Development Award, worth €20,000. It centres on an aging woman who dares to live her desires against society's expectations. Maryam Moghaddam and Behtash Sanaeeha direct, with Caractères Productions and Honare Khiyal producing.
It is the third joint directing effort for Iranian filmmakers Moghaddam and Sanaeeha, whose previous film was 2021 Berlinale competition title Ballad Of A White Cow.
Shuchi Talati's feature debut Girls Will Be Girls received two prizes. The film follows a 16-year-old girl who finds her rebellious coming-of-age years are being hijacked by her mother. It was pitched to the market by producer Pooja Chauhan of Crawling Angel Films, India, and took home the VFF Talent Highlight Award, with prize money of €10,000.
Nominee awards of €1,000 each went to Kobi Mizrahi (KM Productions) from Israel, the producer of Available Now, and Bárbara Defanti (Sobretudo Produção) from Brazil, producer of Cachalote.
The Artekino International Award, worth €6,000, also went to Girls Will Be Girls.
Over 1,400 individual digital meetings took place across this year's Co-Production Market, with over 550 participants. The market runs until February 16.