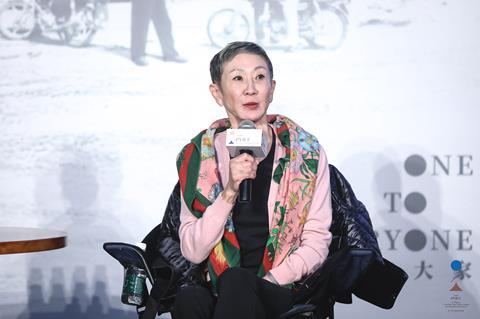 Hong Kong producer Nansun Shi took a captivated audience of young cinephiles and budding filmmakers through her 38-year career of producing Chinese-language films in a Forum session at Pingyao International Film Festival (PYIFF).
Shi was in Pingyao to receive the 'International Contribution to Chinese Cinema Award' for helping give Chinese films an international profile. Her producing credits include the many iconic titles she has made through Film Workshop with her former husband Tsui Hark, to the Infernal Affairs series that was remade by Martin Scorsese as The Departed, to festival titles such as A Simple Life (Venice, 2011) and Bends (Cannes, 2013).
In a PYIFF Forum session entitled "How I make films from South to North", Shi explained how she started her career in the early 1980s when two studios – Shaw Brothers and Golden Harvest – controlled the Hong Kong market and had started exporting kungfu stars like Bruce Lee and Jackie Chan. Shi was one of a small group of producers and directors who broke that duopoly and held their own against Hollywood with the launch of Cinema City. Famous for its collaborative approach to scriptwriting and production, the disruptor of its day produced a string of hit comedies, dramas, spy films and horror movies, including Aces Go Places, City On Fire and Esprit D'amour.
"There was a journal called Film Biweekly reporting about the Hong Kong 'new wave' and introducing these new directors like John Woo and Tsui Hark," Shi explained. "The founders were a bit older than me but knew what the audience wanted and could connect the popular taste with the new wave. It was a marriage of art and market – a brand new cinematic language for locally relevant content."
As she had studied in London, Shi spoke the best English among her Cinema City colleagues and got the job of calling Hollywood and Australian SFX and make-up artists to tap international expertise for Hong Kong movies like Till Death Do We Scare. "We needed werewolf makeup and had a list of companies to call. Of course there was no internet then so I just had to pick up the phone. I got to the seventh company on the list before finding anyone who was interested in coming to Hong Kong."
In 1984, Shi and Tsui splintered off to establish Film Workshop. Shi explained that Cinema City had started making big-budget commercial movies for Chinese New Year and Tsui wanted his own studio for subjects not appropriate for the larger company: "He told them, I like your mansion but I also need a small pavilion in the grounds to develop my own favourite topics." Starting with Shanghai Blues, Film Workshop produced a string of critical and commercial hits including the A Better Tomorrow, Once Upon A Time In China and A Chinese Ghost Story series.
Shi explained that because the Hong Kong market was too small to recoup a big budget, producers had to look further abroad to East Asia, Europe and the US. Initially, Southeast Asian countries with Chinese-speaking audiences – Singapore, Malaysia and Thailand – were the most important markets. "We wondered why Taiwan was not watching our films – so we started flying there once a month to promote our new releases and open up the market. Once Hong Kong movies started selling in Taiwan, we also developed the Japanese and Korean markets, which at that time were buying nothing other than Jackie Chan. Korea did better than Japan, which had lot of restrictions and was a conservative market, but we achieved a certain revenue from Japan."
But Asia was not enough for this ambitious producer. "In 1982, I felt my films were so good they deserved to be watched by a greater audience, so I went to Cannes and saw that many countries were buying films and not just from the US. We hired marketing experts and they taught us all kinds of skills we could use to appeal to buyers. Hong Kong films had good action but we realised we needed to improve the technical elements like post-production. I did my homework so I knew what I could pitch and sell to distributors, then we started selling to 20-30 markets."
During the '80s, the mainland China market was still pretty much closed, but Hong Kong filmmakers started to look across the border, particularly to shoot period movies, as in Hong Kong there would always be a taxi or electricity pylon creeping into the shot. "We wanted to shoot in real desert and forests," Shi remembered. "Co-production was possible but all the studios were state-owned and had an annual quota that they'd already used by the time we approached them." Finally Shi found a studio with a spare quota and in 1991 took a crew to China to shoot Tsui's New Dragon Gate Inn.
"We just went there and filmed and brought many people from Hong Kong," Shi continued. "The Hong Kong people were all wearing jeans, but the Chinese studio people were wearing suits at the launch ceremony. The Hong Kong crew were not good at speaking Mandarin so had no idea what they were talking about. We could only stay in touch with our office by using pagers."
The following year, Film Workshop partnered with Shanghai Film Studio on Once Upon A Time In China 3, which was the first Hong Kong-China revenue-sharing movie. Then Yu Dong, founder of Bona Film Group, started distributing Hong Kong movies in the China market; the Closer Economic Partnership Arrangement (CEPA) was signed in 2003, giving Hong Kong films greater access to the market, and big-budget co-productions like Hero pushed Chinese cinema to a whole new level.
"We went from south to north in ten years," Shi remembered. "Young producers from that era became top executives in the industry." Hong Kong filmmakers also had to learn how to deal with mainland censorship – corrupt cops were out of the question – but the kungfu and action films they excelled at were less problematic.
In less than 20 years, the mainland box office grew from being smaller than Hong Kong's to the $9bn behemoth it is today. The market grew fast but was also chaotic: "We were a group of experienced Hong Kong filmmakers, well versed in making commercial kungfu films, with a passion to share our expertise with our colleagues in the mainland. But it takes time to build a system and the Chinese market grew too quickly and wasn't disciplined. New Dragon Gate Inn had a crew of 100 people, but by the time we made the Detective Dee films, crews had increased to 500. Everyone had two assistants, and their assistants had assistants, so I was curious why we needed so many people."
The session's moderator, producer and scriptwriter Wei Junzi, touched on the irony of Hong Kong filmmakers now making "main melody" or propaganda films in mainland China. Tsui was one of first with The Taking Of Tiger Mountain, a reworking of one of China's 'Red Classics'. "Tsui said it was basically a James Bond story, the structure is Mission Impossible," Shi explained. "He considered how to do it for many years and when Huang Jianxin came on board as executive producer, he felt more comfortable. Hong Kong directors are really good at making these kinds of mission-based action films."
Shi also talked about Hong Kong's efforts to develop new talent and smaller, more locally relevant stories that aren't necessarily aimed at the mainland market. She explained how the Hong Kong Film Development Council has been supporting local filmmakers through the First Feature Film Initiative. "Such programmes have already incubated young directors – films like Still Human – we've seen successes with low-budget films. They're local stories, but if a film has universal values, it can also make sense overseas."
Since 2007, Shi also been co-head with Jeffrey Chan of international sales agency Distribution Workshop. One of the major tasks for companies handling Chinese films is to coordinate day-and-date global releases to avoid piracy. As the China market is now so big, it usually dictates the release date for all other territories. "After A Simple Life won the best actress award [for Deannie Ip] in Venice, we wanted to release the film in early December," Shi remembered. "But that is high season in China, and small-budget films are squeezed out by blockbusters, so we held on for a March release."
When asked what other genres of Chinse films, in addition to action, can connect with an international audience, Shi talked about films such as Iranian Oscar winner A Separation, India's The Lunchbox and Cannes Palme d'Or winners Shoplifters from Japan and Parasite from Korea. "These films have impressed the whole world because of their humanity and universal values. They're not big budget but were well understood and touching stories. Of course you need a selling point for distribution, like a Cannes award, otherwise you're not going to attract a big audience for an Iranian movie. But Chinese filmmakers have the opportunity to make these kinds of films as well."
Shi and Tsui's most recent film as producer and director is the latest installment in the Detective Dee series, Detective Dee: The Four Heavenly Kings, released in China and internationally last year. Distribution Workshop is handling international sales on PYIFF's closing film, The Opera House, directed by Jacob Cheung.