Sumner Redstone's majority owner of CBS and Viacom, the parent company of Paramount Pictures, on Thursday said it has asked the boards of both companies to consider a merger.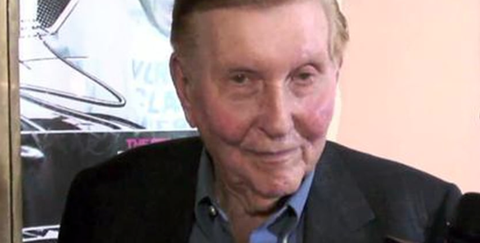 In a letter sent to both boards, National Amusements said it believed a combination would be timely and added that it would not entertain offers from a third party or surrender its controlling position.
The letter stressed that neither National Amusements CEO Redstone, National Amusements president Shari Redstone nor CBS board member David Andelman would take part in deliberations or vote on the matter.
"We believe that a combination of CBS and Viacom might offer substantial synergies that would allow the combined company to respond even more aggressively and effectively to the challenges of the changing entertainment and media landscape," the letter said.
It went on: "Our tentative view is that the optimal structure would be an all-stock transaction in which the stockholders of each company would receive shares in the combined company of the same class as they currently hold."
CBS and Viacom split ten years ago following a merger back in 2000.
Viacom has suffered extreme turbulence recently. Interim CEO Tom Dooley is on the way out, Paramount Pictures vice-chairman Rob Moore has left and Viacom has shelved for now the prospect of selling a stake in the studio.