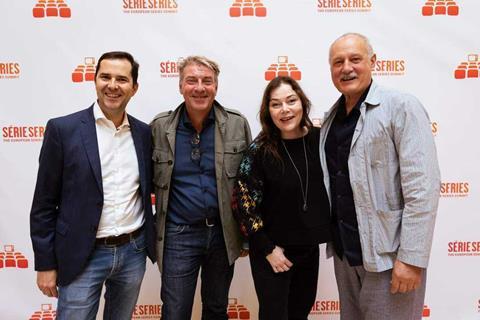 National film institutes from Denmark, Ireland, Estonia, Spain and the Nordics are teaming up to launch the European Writers Club (EWC), an EU-backed initiative to increase collaboration on high-end series projects across the continent.
The project launches with a panel at 17.00 CET today at Series Series, the event for European series and creators held in Fontainebleau, France.
The EWC is created and headed by CEO Thomas Gammeltoft, formerly partner and executive producer at Nordic and Italian production and distribution firm True Content Entertainment. Copenhagen-based Gammeltoft was previously CEO of the Copenhagen Film Fund from 2013 to 2019.
Gammeltoft is assisted in running the EWC by project manager Nawell Amour, who joins from the European Producers Club.
It will be administered by Danish screen industries trade body Vision Denmark; European writers, broadcasters and producers are invited to apply to participate in the sessions.
National funders
The project is supported by Screen Ireland, the Estonian Film Institute, the Danish Film Institute, the Nordic Film and TV Fund, the National Film School of Denmark, the Nordic Writers Associations, Galician funding agency AGADIC and Danish broadcaster TV2.
In a first-year pilot, the EWC will host three sessions, each consisting of two one-week camps.
The Boosting Ideas Session is led by Brittany filmmaking body Le Groupe Ouest, and will run in Copenhagen, Denmark from October 23-28, then in Tallinn, Estonia from December 5-10, for 10 writers and 10 broadcasters.
The Boosting Concepts Session is led by the Series Lab programme of the TorinoFilmLab; its camps will run from April 11-16, 2023 in Dublin, Ireland, then May 30-June 5 in Galicia, Spain. Writers and creators will be paid for their participation in both sessions.
A special seminar session called Boosting Broadcasters has been designed for both public and private broadcasters to meet and discuss trends and create collaborations.
Finally, the EWC will also curate masterclasses and localised events for its members.
"The EWC is all about finding new ways of creating stories. We have our broadcasters to ensure these series reach the largest audience – but only if we work together," Gammeltoft said. "The EWC will encourage great storytelling from a unified, European front. Our goal is to grow collaboration between creators at the top of their fields: Let's create stories together."
The EWC advisory board consists of Katrine Vogelsang from TV2, Simone Emmelius of Germany's ZDF, writers Nikolaj Scherfig from Denmark and Virginia Yague from Spain, Ivar Kohn from Norwegian TV producer Rubicon, and Femke Wotling from Dutch production company Submarine.