National Association Of Theatre Owners John Fithian championed the theatrical experience with typical gusto on Tuesday, predicting this year would surpass all that had come before it at the US and global box office.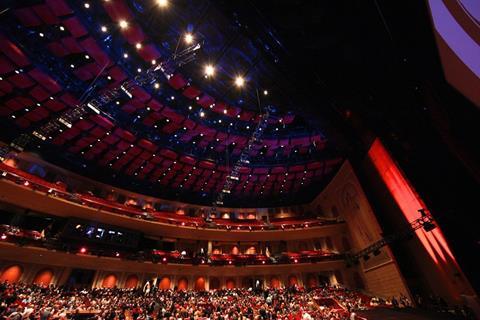 Fithian, who in an interview with Screendaily earlier this week said the Netflix model made "no sense" to the film industry at large, outlined several reasons why the theatrical experience was in rude health and would drive 2015 to new heights.
"In 15 years of standing on a Vegas stage, I have never before made this prediction – 2015 will be a record-breaking year in both domestic and global box office receipts," he said.
The figurehead of the exhibition sector's lobby group went on to say, "2015 will rock at the box office because it will be the year of women.
"Research by the Center For The Study Of Women In Television and the Geena Davis Institute On Gender In Media has shown that only 12% of leading roles in 2014 went to women even though women bought half of all movie tickets.
"In 2015 women get a little more of the limelight. Three successful movies so far this year had women in leading roles and sold 60% or more tickets to women.

"And we have so much more to come, with big female roles in horror, comedy, science-fiction, animation, family, Western, thriller and action. Personally, I am so pleased that my daughter can see more women in leading roles than ever before."
Fithian noted that the first quarter defied Wall Street expectations and gained 3% on the same period in 2014 and pointed to affordable ticket prices, luxury upgrades, technological excellence and strong customer service as reasons why cinema-going remained a premium experience.
He also praised the policy of year-round releasing – noting that Universal's Universal's Fast & Furious 7 became the first billion-dollar April release – and predicted "at least four, and perhaps as many as six, billion-dollar movies, spread throughout the year."
Other factors cited by Fithian in favour of the theatrical model include the broad appeal of product to all ages and the presence each month of at least one PG- or G-rated wide release.
The NATO chief added that towards the end of 2015 virtual print fee cost savings were expected to kick in as the final phase of the digital cinema roll-out begins in the US. He said distributors could look ahead to savings of more than $1bn per annum in North American and more internationally.
Fithian also highlighted a recent survey where NATO members cited preservation of "reasonable theatrical release windows" as their top priority.
"Though one-off and radical simultaneous release experiments garner some media attention," he said, "the reality is that major distributors believe that theatrical exclusivity drives the entire business."
During his State Of The Industry remarks, MPAA chairman and CEO Senator Chris Dodd spoke of the link between legal access to content, creativity and economic growth and highlighted the MPAA's WhereTo Watch.com as an important tool in support of this.
"We believe WhereToWatch.com is an important opportunity for our industry to directly engage with your customers and, at the same time, support creators by driving audiences to legal sources of content – both in your movie theatres and online," said Dodd.
"On a broader level, this effort is also a crucial recognition of the changing technological landscape and the need to continue evolving to meet the demands of our consumers.
"That will mean finding new ways to enable audiences to see movies where and how they want, while maintaining the magic and unrivaled appeal of the theatre-going experience that has been this industry's driving force for well over a century."
The MPAA will host the third annual Creativity Conference on April 24 in Washington DC in partnership with ABC News and Microsoft.