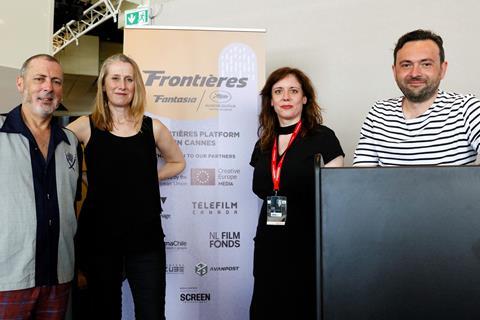 Neasa Hardiman's Sea Fever has won the inaugural Avanpost Digital Cube Post-Production Award at the Frontières Platform in the Marché in Cannes.
The prize, worth €150,000 in-kind services at Romanian company Digital Cube, was presented at a lunch event on May 12.
The project is an Ireland-Belgium-Sweden co-production and first took part in the 2014 edition of the Frontières International Co-Production Market in Brussels. It then returned to the Finance & Packaging Forum in Amsterdam this February.
Sixteen projects were selected to take part in this year's Cannes Platform. 10 in advanced financing stages were presented to potential partners on May 12, with six projects recently completed or in post-production showcased to buyers yesterday.
Among the proof of concept projects are Prano Bailey Bond's UK psychological horror Censor, which is executive produced by genre critic Kim Newman; Casey Walker's Canadian/UK horror Whitaker, produced by Andy Starke and executive produced by Ben Wheatley; and Can Evrenol's Turkish fantasy drama Girl With No Mouth.
The buyers showcase included Denis Côté's Canadian fantasy drama Ghost Town Anthology and Amanda Kramer's US suspense thriller Ladyworld.
Now in its second year, the Frontières Platform is a co-presentation between Fantasia International Film Festival and the Cannes Film Festival Marché du Film. It is co-funded by Creative Europe, with the support of Wallimage, Cinema Chile and Telefilm Canada.