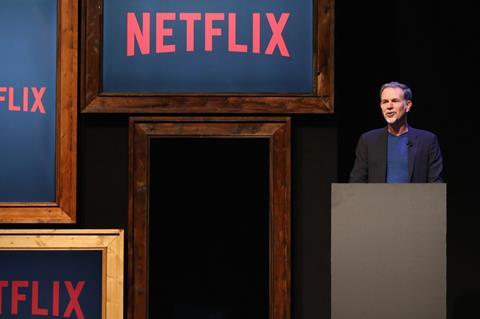 Netflix is aiming to shed its reputation for secrecy, according to chief executive Reed Hastings.
Delivering the keynote at the Royal Television Society (RTS) conference in Cambridge, he admitted that Netflix has been "guilty of being simplistic" in the past in areas like data-sharing and rights flexibility.
"We're trying to grow up a little," he went on to say. "When we went public in 2002, we were $50m (£40m) in revenue and Blockbuster was $5bn (£4bn). We had a long fight that we barely came out of and learnt to be defensive about hiding information. But the things that made us successful can then trip us up over time."
He added that he would be happy for the SVoD to be measured by Barb (Broadcasters' Audience Research Board), which measures television ratings, in line with other UK broadcasters.
"No one wants to rely on us to do our own measurement. To a strong degree, it would good for us and the industry to be on the Barb panel."
Since January, Netflix has been releasing top 10 lists each month of its most viewed shows per territory, but Hastings said more could be done. He conceded, however, that it is "ultimately up to Barb".
BBC head of TV strategy Becky Marvell recently took Netflix to task for a "lack of context and transparency" in its ratings data.
Flexible rights
Several senior production sector figures have reported at RTS that Netflix has become far more flexible on rights and is no longer seeking total-IP ownership.
Bracing himself for the upcoming influx of more streaming services, Hastings said he is imploring his employees to "focus on the customer rather than the competitor".
He said Netflix has been prepping for this moment since 2012 and expressed surprise that it has taken the likes of Disney, NBC and Warner Media such a long time to launch their own streamers.
"When we first did House of Cards, people asked: 'why don't you just licence content?'," he added. "We said that eventually all those companies will be direct-to-consumer. We've been preparing this for a long time because we've known it's been coming."
While Netflix doesn't have the extensive original content library of the likes of Disney, Hastings pointed to originals like Orange Is The New Black and Grace And Frankie – two offerings that have now run for seven seasons.
Binge is core
Netflix has been experimenting with different release models of late – dance competition Rhythm & Flow is to be released in three blocks for its three different stages - but Hastings said box-setting shows in their entirety remains the core model for the platform.
Responding to a question from Broadcast, he described binge-viewing as "the essence of what viewers love", stating: "It's a better model and we'll be sticking with that. We're trying to please our members because that's how we grow."
Netflix spent £400m in the UK last year and Hastings said it will increase spend this year, although he refused to be drawn on a figure.
This story first appeared on Screen's sister site Broadcast.