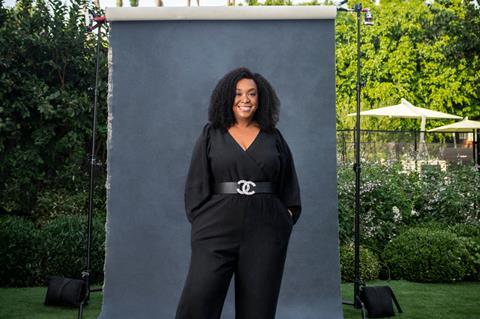 Netflix and producer Shonda Rhimes are expanding their deal to cover feature films and what they described as "potential gaming and virtual reality content."
The streamer's original 2017 deal with Rhimes, her company Shondaland and her producing partner Betsy Beers covered series and other content and has resulted in global streaming hit Bridgerton.
The extended deal allows Netflix and Rhimes to also "exclusively produce, stream and distribute feature films," according to a statement. And it adds live events and experiences to the branding and merchandise element of the existing deal.
Netflix will also invest in and provide financial and technical infrastructure to support Shondaland programmes to increase industry representation for underrepresented groups in the US and the UK.
Bridgerton, currently in production on its second season and already ordered by Netflix for third and fourth seasons, is Rhimes' latest hit after her run of broadcast network TV success as creator of Scandal, Grey's Anatomy and other series.
The producer-writer-director has less of a track record in the feature world, being best known as a writer on such films as Britney Spears comedy romance Crossroads and Disney sequel The Princess Diaries 2: Royal Engagement.
Commenting on the deal extension Rhimes said: "When Ted [Sarandos, Netflix co-CEO] and I decided to break the traditional network TV business model to move Shondaland to Netflix, we were both taking a leap into the unknown. Today, Shondaland at Netflix is creatively thriving, profitable as an asset and engaging audiences around the world with stories that fearlessly challenge viewers and keep them highly entertained all at once. Ted, Bela [Bajaria, Netflix's head of global TV] and the entire team at Netflix have been tremendous partners during every step of the process, supporting my creative vision and showing a continued dedication to the innovation that has made Netflix such a powerhouse. The Shondaland team and I are thrilled and excited to be expanding our relationship with our content partners at Netflix."
Bajaria added: "Shonda makes shows that get the world talking, and we've seen the power of her creative vision to translate in any language. Shonda's a brilliant businesswoman and a terrific partner and we're thrilled to expand our relationship with her for years to come. On a personal note, I'm especially invested in the mentorship and pipeline programmes we will support, as I've seen firsthand how the power of mentorship can transform careers and lives — and I'm excited by the possibility of what that can look like in Shonda's hands."