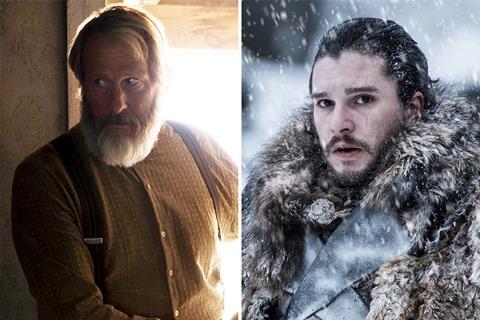 Netflix and HBO have tied on a historic 23 Emmys apiece this year over the course of three Primetime shows that culminated in Monday's (17) main ceremony at the 70th Annual Primetime Emmy Awards at the Microsoft Theater in Los Angeles.
This marked the first time a streaming service has finished top. Netflix prevailed on Monday night, taking home seven awards to HBO's six. A win for Game Of Thrones over the likes of Netflix's The Crown and Stranger Things in the final award of the night, drama series, ensured the cable company tied 23-23 overall.
Last year Netflix managed only four awards to HBO's 10 in the main Primetime ceremony. "Tonight's recognition is a tribute to the creativity and talent of thousands of artists and we are thrilled to see their work awarded by the Academy," said Cindy Holland, Netflix vice-president of original series. "We are honoured to share this night with our friends at HBO, who have paved the way for years by setting the highest possible standard."
Among individual shows, FX's The Assassination Of Gianni Versace: American Crime Story was the most honoured drama series, taking three awards on Monday. Amazon Prime Video's The Marvelous Mrs. Maisel produced the best showing for a comedy series, with five awards.
The Handmaid's Tale, Atlanta, and The Tale in the limited series / TV movie category were all shut out.
FX had the third biggest Primetime Emmy Monday night tally overall with five trophies, two going to the final season of the basic cable network's The Americans. Netflix's most triumphant drama series were The Crown and Godless on two awards each.
The ceremony offered few surprises, other than the marriage proposal made from the stage by Glenn Weiss, winner of the variety special directing Emmy for The Oscars. Weiss' girlfriend came out of the audience to accept the proposal.
Much of the ceremony banter was about Netflix's growing power and the television industry's drive to become more diverse.
The most rousing acceptance speech came from Gianni Versace executive producer Ryan Murphy when he received the Emmy for outstanding limited series. Murphy, who recently signed a high-profile deal with Netflix, said the show was in part about "a country that allows hatred to grow unfettered and unchecked – one out of every four LGBTQ people in this country will be the victim of a hate crime. We dedicate this award to them. We dedicate this award to awareness, to stricter hate crime laws."