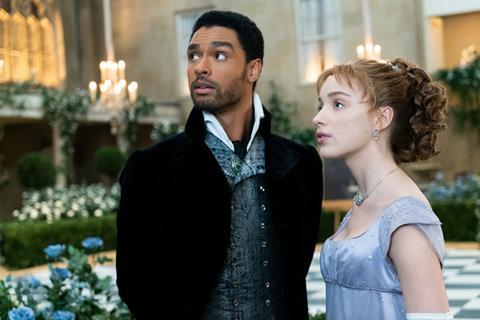 Netflix has set out an annual commitment to invest £1.2m in training up to 1000 individuals as it unveils a programme with Bridgerton producer Shondaland.
Under a Grow Creative UK banner, the SVoD giant is to build on the £1.5m it has ploughed into initiatives to bring more diverse voices into the industry with a number of schemes designed to upskill below-the-line creatives from all backgrounds.
Alongside the Shondaland tie-up, which will offer five trainees experience across a number of different departments, it will also invest £300,000 into the London Screen Academy, a sixth form arts and media training academy. The support follows a £300,000 investment made last year.
Netflix also expects to offer training opportunities across its slate of scripted and unscripted returners including Sex Education, The Witcher and Top Boy, as well as with production and industry partners.
Grow Creative UK head Alison Small, who joined a year ago from the Production Guild, said that the industry risks being held back by a lack of available training.
"It's a big problem, especially because the number of productions that Netflix is making in the UK is increasing," she said.
"If we don't have skilled top-class people at all levels from trainees to heads of department then that is a risk. Pay rates go up because there aren't enough people and the result is the UK becomes less competitive and we could start to lose productions."
Small dismissed the suggestion that Netflix's £1bn content spend has contributed to rising pay rates by intensifying demand for talent.
"It's true that there is a shortage but creating more job opportunities is a positive thing," she said. "Netflix recognises that if it's going to create content then it needs to make sure that it invests in the talent to be able to support that."
Small also stressed the importance of taking a long-term approach.
"This isn't about rushing to bring in lots of new entrants for a single show - that doesn't help anybody. We want to make sure that they go on a journey over a number of years in which they get the best training and support and ultimately become brilliant heads of department."
A partnership with the Griersons has been established to help plug skills shortages across production, management and editing in documentary-making, alongside a post-production co-ordinator certification with the National Film and Television School.
Small has also identified VFX, animation, production management and location management as other growth areas, as well as production accountancy. "That is a major issue," she added. "The industry is changing so the accountant department has grown - it's now bigger, more complicated and has more responsibility."
This story first appeared on Screen's sister site Broadcast