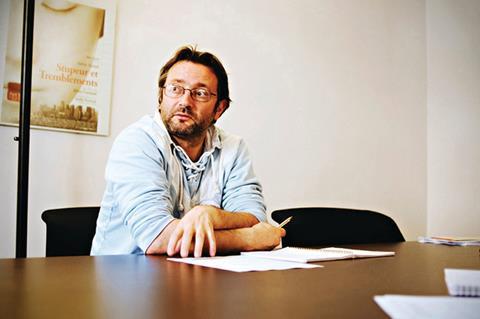 Vincent Maraval, founder and head of France's Wild Bunch International, has urged Netflix to "do a deal" with cinemas, if it wants to survive in the increasingly competitive streaming market.
Maraval was speaking with CAA Media Finance co-head Roeg Sutherland today (September 19) during the opening keynote discussion at San Sebastian's inaugural Creative Investors' Conference (CIC).
Asked by Sutherland if working with Netflix is good for business, he said: "Of course I am dealing with Netflix."
"The chance of Netflix is cinema," he added. "If Netflix wants to survive against better capitalised companies like Amazon, Apple, their chance is to do a deal with cinema. Of course, today in France, people are complaining about Netflix because it's American – France always has that kind of defiance. Netflix is our chance, if it moves and changes."
The pan-European Wild Bunch group spans TV and film distribution, with production operations in Germany, France, Spain and Italy as well as a TV sales arm. The film sales arm Wild Bunch International, spearheaded by Maraval, has been an independent entity since 2019.
On keeping independent distributors afloat, Maraval said: "It's a balance. You need to provide traditional distributors [with] films, but you need to take advantage of the streamers to make you stronger. It's an eco-system.
"My feeling [in five years' time] is there will be a revival [of independent distribution], but I don't know if the same distributors will exist, it's very tough for them today. I think there will a regeneration. I hope it will be the same people. I think cinema distribution will survive for sure, but it will be different."
He confirmed: "My choice number one, when thinking of projects, is to go into theatres."
But Maraval also questioned Cannes' mandate that films must have a guaranteed French theatrical release to compete for prizes.
"It's not the role of a festival to select films by the way they are distributed. When you are a festival chief or selection committee, you judge the film. The way the film is going to be distributed, for me, should not be part of the decision. I think it is a mistake.
"Venice is doing the total opposite mistake – the four first days of Venice it looks like the 'Netflix film festival'."