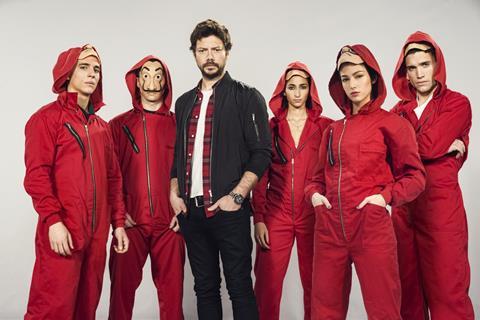 In one of the first firm indications of how the coronavirus crisis is affecting the streaming wars, Netflix beat forecasts and gained 15.77m paid subscribers globally over the first quarter of 2020, a period including less than a month of most countries' pandemic shutdowns.
The growth was once again mostly in international markets and it expanded the streaming giant's worldwide subscriber total to 182.86m. It was more than double the 7m Netflix had forecast for its first quarter and it also beat predictions by analysts, who had been suggesting that because of sign-ups by viewers confined to home by shutdown orders the streamer might gain 7m-9m subscribers.
In the US, Netflix added 2.31m subscribers, for a total of 69.97m. In the EMEA region the count grew by 6.96m to 58.73m. Latin America saw 2.9m additions, for a total of 34.32m. And in Asia Pacific the count grew by 3.6m to 19.84m.
That put overall international growth in the quarter at 13.46m, for an international total of 112.89m.
Netflix revenue was up 27.6% from the first quarter of 2019 to $5.77bn and earnings per share were $1.57.
In its letter to shareholders, Netflix said that "Like other home entertainment services, we're seeing temporarily higher viewing and increased membership growth. In our case, this is offset by a sharply stronger US dollar, depressing our international revenue, resulting in revenue-as-forecast. We expect viewing to decline and membership growth to decelerate as home confinement ends, which we hope is soon."
The company highlighted strong performances by individual shows including the third season of Ozark, projected to have been watched by 29m member households in its first four weeks; docu-series Tiger King: Murder, Mayhem And Madness, with a projected 64m; and original film Spenser Confidential, with 85m.
Netflix also said season four of the Spanish language hit La Casa de Papel (Money Heist), which had its debut in early April, just after the end of the first quarter, was projected to be viewed by 65m households.
In the company's webcast to discuss the results, chief content officer Ted Sarandos played down the affect of production disruption due to the pandemic: "Our 2020 slate of series and films are largely shot and are in post production remotely in locations all over the world. And we're pretty deep into our 2021 slate. So we don't anticipate moving the schedule around much."
Projects including the fourth season of The Crown and animated feature Over the Moon are shot and in the finishing stages and will be released later this year as planned, Sarandos said.
The chief content officer said plans for getting back into production on projects "vary by geography and type of production. First and foremost we want to make sure that it is an unbelieveably safe working environment. We have to be able to look our empolyees and cast and crew in the eye and say this is a safe place to work."
Netflix shows are currently in production in Iceland and Korea, he said, and the company is taking lessons "about how we run those productions today and applying that to our plans for productions around the world."
CEO Reed Hastings, meanwhile, was sanguine about competition from recently launched and upcoming streaming services.
Hastings said he has been "so impressed with the Disney+ execution. To have them achieve over 50m [subscribers] in six months is stunning. My hat's off to them."
Of other services coming to the market, "there's nothing we can do about any of them," said Hastings, "nor about video gaming, nor about YouTube or any of the other competitiors for time. Internally, we mostly say don't focus on the competitors, focus on our service - how do we make it better and better. And that's served us very well."