Three Billboards Outside Ebbing, Missouri will open festival that runs September 21-28 in Austin, Texas.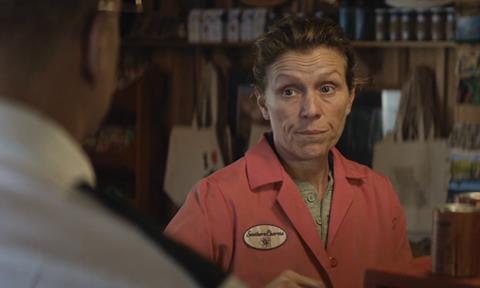 Fantastic Fest 2017 has announced its initial line-up of films. This year's opening night film is the US premiere of Martin McDonagh's Three Billboards Outside Ebbing, Missouri (pictured).
Among this year's initial titles are the US premieres of S Craig Zahler's Brawl In Cell Block 99, starring Vince Vaughn, Don Johnson and Udo Kier, Yorgos Lanthimos' horror film The Killing Of A Sacred Deer, and Takashi Miike's Blade Of The Immortal.
Fantastic Fest will include cinema from the Middle East including Egypt's rarely seen Rocky Horror Picture Show adaptation Anyab and the international premiere of Marwan Hamed's The Originals.
"It's truly a joy to be able to showcase a variety of Arabic genre films never before seen in the US to shatter preconceptions." Fantastic Fest creative director Evrim Ersoy said. "Cinema from this region is as exciting, inventive and as wild as anything we've ever seen and we're here to prove it. It's going to be a wild ride! Yalla, Habibi!"
Sweden is represented with Ruben Ostlund's Cannes Palme d'Or winner The Square, Scotland is represented by John McPhail's zombie musical Anna And The Apocalypse, while Austrian Oscar-winner Stefan Ruzowitsky will present his film Cold Hell.
The festival will feature two Netflix films that are adaptations of Stephen King's work. Mike Flanagan's Gerald's Game will have its US premiere, while Zak Hilditch will screen the world premiere of his King adaptation 1992.
Fantastic Fest will bring its programming to three Alamo Drafthouse flagship theatres over the weekend of September 29. Fans of genre films can screen Fantastic Fest titles in San Francisco, Brooklyn and Denver.
"I'm proud to say that this is truly lucky thirteen for us," Tim League, festival founder and Alamo Drafthouse CEO, said. "We have another ferocious slate celebrating new and returning filmmakers from all over the world. It's again an honour and privilege to welcome them and their brilliant, brave work."
For a complete list of films, click here.