EXCLUSIVE: Chanya Button's debut feature getting theatrical release in UK via Verve Pictures. Director also talks new projects.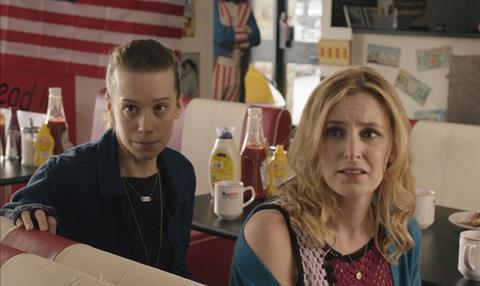 Chanya Button's debut feature Burn Burn Burn has been acquired by Netflix for global VoD rights.
Verve Pictures will release the film in the UK on Oct 28 at about 20 cinemas across the UK, and the film will then launch on Netflix UK in early 2017.
Everyman Cinemas is working with the film to do a special tour of event screenings featuring Q&As with the likes of Button and cast members Chloe Pirrie, Laura Carmichael, Jack Farthing and Joe Dempsie. Those screenings include Oct 25 at Screen on the Green, Oct 29 in Harrogate, Oct 30 in Bristol, Nov 1 in Esher and Nov 2 at Kings Cross.
"It's so fantastic that Everyman is so behind us to create something that feels like an event," Button told Screen. "As an independent film, anything you can do to make it feel like an event is important."
Other territories sold are Australia/New Zealand (Vendetta), Poland (Wistech Media), Scandinavia (Storytelling), Ukraine (Top) and Turkey (BIR). The film is being held back for its Netflix launch in the UK and Poland. UDI handled the Netflix deal and the other sales and continues to represent international rights.
"Netflix offers you access to an unbelievably wide audience," the director said. "But I'm also making films for cinema, so it made sense to use the Netflix deal to facilitate our release [in cinemas]."
The film — about two girls taking a road trip to scatter the ashes of their departed friend, who guides them on their journey through pre-recorded videos - had its premiere at the BFI London Film Festival last year, and has also played at festivals including Seattle and Odessa (where it won the event's top award).
Button also produced Burn Burn Burn alongside Daniel-Konrad Cooper and Tim Phillips. Charlie Covell wrote the script.
Before making Burn Burn Burn, Button directed four shorts and also worked as an assistant director on the Harry Potter films. She has an MA in theatre directing from RADA.
Next projects
She is already preparing her next feature, Vita And Virginia, which she is writing alongside Eileen Atkins (adapted from Atkins' play of the same name). Evangelo Kioussis is producing for Mirror Productions, and the film is likely to start shooting in March/April 2017.
It tells the story of the love affair and friendship between writers Virginia Woolf and Vita Sackville-West and the impact on their marriages.
"Virginia Woolf has been a passion for me for a long time," Button said. "Woolf has influenced how I think about everything, there is even an essay she wrote, On Being Ill, that influenced Burn Burn Burn."
The film will cover 15 years of their relationship but concentrates on 1925-1927. "It's about how their relationship inspired Orlando, It's the study of a complex female relationship," said Button.
"It's a fresh period drama…Also, you get a view into her creative genius, and some bonkers surreal visions."
She is also writing and will direct a two-part TV project for Kudos with Manda Levin (River) producing, which explores themes of motherhood as technology evolves. "It's exciting to do authored TV," Button said.
Another film in development is Shore, with Screen International Star of Tomorrow Melissa Iqbal writing and Kitty Kaletsky producing for Midnight Road. The film will be a US-UK collaboration packaged by UTA (where Button is repped by Peter Dodd). The post-apocalyptic story could shoot by late 2017.
In the UK, Button is repped by Matthew Bates at Sayle Screen.