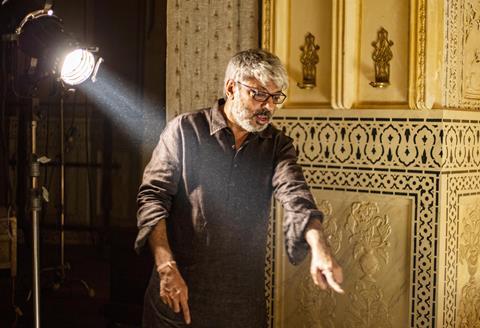 Leading Indian filmmaker Sanjay Leela Bhansali is teaming with Netflix on a historical drama series, Heeramandi, set in a red light district in the city of Lahore before the partition of Pakistan and India.
While details of the series are scant, it's likely to feature Bhansali's trademark opulent costumes, sets and stars. He is known for historical epic movies such as Padmaavat (2018), Bajirao Mastani (2015), Sony-backed Saawariya (2007) and Devdas (2002), which screened at Cannes.
Devdas was also nominated for a foreign-language BAFTA and submitted as India's entry to the best foreign-language film category of the Academy Awards.
Netflix said in a statement: "The show will explore stories of courtesans and the hidden cultural reality of Heeramandi, their dazzling district in pre-independent India. It's a series about love, betrayal, succession and politics in the kothas through three generations of tawaifs which promises Sanjay Leela Bhansali's trademark larger than life sets, multi-faceted characters and soulful compositions."
Monika Shergill, vice president, content, Netflix India added: "Sanjay Leela Bhansali has created a stunning brand of cinema which is uniquely his own, with emotionally charged storytelling, magnificent sets and unforgettable characters."