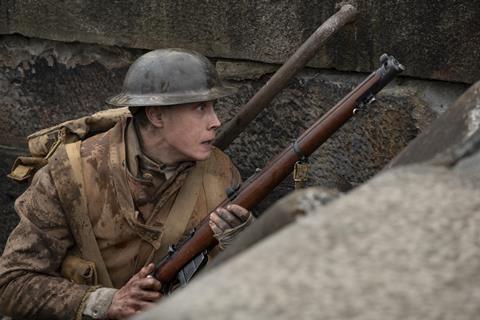 UK Cinema Association CEO Phil Clapp was in bullish form about the health of the UK's exhibition sector at the start of the UKCA's 2020 annual conference, titled "Audiences - growing the big screen experience."
"There is a recognition that the industry as a whole is enjoying a period of considerable success. The last two years have seen the strongest admissions in the last 50 years," Clapp said at the event, which runs March 3-4.
He said that in 2019, 30 new cinema sites opened in the UK, adding just over 120 new screens. By the end of 2019, the UK had 4564 screens, up from 4399 in 2018.
UK box office revenue may have dropped by 1.8% in 2019 but Lucy Jones, executive director, Comscore Inc, pointed out that for each of the last five years, UK box office revenue has been at over £1.3 billion, with UK film "a phenomenal, huge industry - a great big part of the UK economy."
The fall in attendance in 2019 was at 0.8%, lower than the percentage drop in revenue. That is because ticket prices are coming down. They were at a high of £7.39 in 2017 but fell to £7.06 in 2017.
"There has been some discounting across the sector. Certainly in some cinemas where there is competition nearby, we have seen some price cuts in the past year or two," Jones said of the efforts from some chains to maintain market share amid the rumblings of a ticket price war.
There were some striking regional variations. Cinema going in 2019 was up 2% in Northern Ireland and up by 1% in Granada and Central. In contrast there was a 6% drop in the ITV Wales region.
One notable dissimilarity between the UK and other leading European markets was that the UK didn't have a local hit in its top 5 for 2019. France had comedy Serial (Bad) Weddings 2 at number 3 while Germany had comedy The Perfect Secret at number 5.
"I think there is potential there for the British industry to really capitalise a bit more on the local talent," Jones suggested.
A strong start to 2020
Jones also shared detailed figures about what has been a strong start to 2020. "Every week apart from one, we're up, week-on-week [on 2019]," she said. "We are running 20% ahead of where we were last year so we are well ahead already."
Sam Mendes' 1917 is by far the biggest film of 2020 so far with takings of £42.2 million while South Korean Oscar winner Parasite (currently at just over £10 million) is on track to overtake The Passion Of The Christ as the highest grossing foreign language film of all time in the UK.
Clapp acknowledged the impact of the current outbreak of Coronavirus on the sector. "We are of course monitoring the position around Coronavirus carefully. While the current risk is judged as moderate, we don't underestimate the concern that presents to many people. We'll continue to advise members about this and respond on the basis of facts," Clapp stated. "Clearly, our thoughts are with colleagues in other territories who are experiencing more challenging circumstances."
Jones emphasised a point made by other speakers, namely that film lovers "love film in all its formats." Regular cinemagoers are also likely to have VOD subscriptions.
According to Comscore exit polling, 87% of the UK's filmgoers have at least one video on demand platform at home. On average, they have 1.5% subscriptions.
"Most households nowadays have one or two subscriptions but it doesn't stop them from going to the cinema. It is a totally different experience," Jones said.
Netflix is the most popular platform with UK filmgoers. 65% of those surveyed were subscribers.