Family Support Fund launched by CTBF and Raising Films will help cover childcare costs.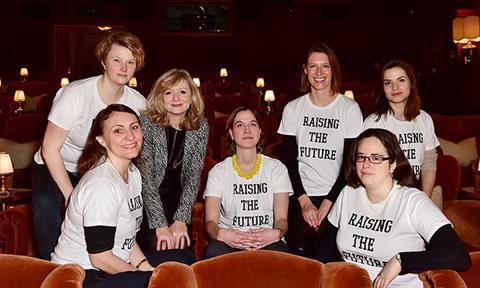 Raising Films, the pioneering organisation for parents and carers in the UK film and TV industry co-founded by The Levelling writer-director Hope Dickson Leach, has launched the Family Support Fund, with the backing of the Cinema and Television Benevolent Fund (CTBF), today in London.
The Fund aims to provide short-term financial support to registered members of Raising Films by contributing up to £75 a day to help cover the cost of childcare arrangements. Beneficiaries will be able to claim a total of £1,500 a year and to make multiple applications.
The CTBF is a charity supporting people working behind the scenes in the UK film and TV industry.
"We are thrilled to be partnering with Raising Films to launch the Family Support Fund as we further our commitment to supporting more people from our industry who facing barrier to work throughout their career journey," sais D'Arcy Myers, CEO of the CTBF.
The Family Support Fun will run as a 12-month pilot scheme. It is the first time there has been a dedicated fund for caring costs aimed at UK screen professionals.
"We know what a difference this kind of assistance can make to filmmakers with caring responsibilities," said Dickson Leach. "We look forward to building upon this initiative so that we can increase our reach and keep more individuals in the industry."
The Fund was announced at the start of a one-day Industry Summit hosted by Raising Films in London on February 7. A keynote speech by Tracy Babin MP, a former actress and TV writer, opened the event which brought together key figures from production, sales, exhibition, financing, distribution, agents, unions and public funding bodies, to debate significant issues impacting parents and carers who work in the film and TV industries. The summit's recommendations will be published in the summer.
Actress and writer Charlotte Riley (pictured, top) was announced as Raising Films first Ambassador. "Our challenge is not to reform the system but to transform it in order to make our industry more inclusive, more accessible and a better place to work," she said.
The summit was supported with National Lottery funding from the BFI's Diversity Fund and held in association with Soho House & Co.