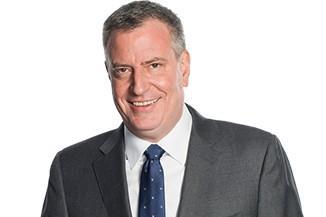 New York Mayor Bill de Blasio said on Tuesday (August 3) that the city will require proof of vaccination for workers and guests at venues for indoor activities such as entertainment, dining and gyms.
The move makes New York the first city to impose such a rule and comes amid ongoing vaccine hesitancy and the spread of the Delta variant in the United States and as vaccination rates are plateauing in the country. Roughly half of all Americans are fully vaccinated.
De Blasio refused to impose a mask mandate in the city earlier this week and hopes the vaccine order requiring people to have received at least one dose will persuade New Yorkers and those who visit the city to get the shot or miss out on popular activities.
The rules will come into effect on August 16 and become enforceable on September 13. The 'Key to NYC Pass' will require people to show physical or digital proof of vaccination. Broadway is set to reopen in mid-September and has set similar requirements for theatre patrons.
De Blasio's order has come under fire from the hospitality industry and those who argue it will affect Black and Latino communities particularly hard as vaccination rates are lower in those communities.
Similar measures in France have sparked protests and a wave of vaccination appointments. At time of writing it was unclear whether other major metropolitan areas in the United States like Los Angeles would follow suit.
Roughly 66% of people in New York are fully vaccinated, according to The New York Times. The Centers For Disease Control and Prevention (CDC) data as of Tuesday indicated 49.7% or 165.08m people in the US were fully vaccinated and 57.9% or 192.12m had received at least one dose.