Pig Heart Boy writer Malorie Blackman was presented with an honorary NFTS fellowship.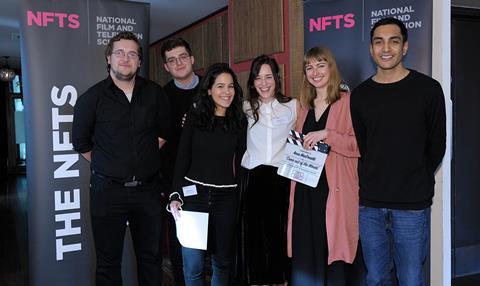 The National Film and Television School (NFTS) has revealed the winners of its 2017 prizes for graduating students.
Presented at the annual NFTS graduate show – taking place at Picturehouse Central in London between February 20-21 – the awards highlight the last 12 months of graduate productions from NFTS students.
The most promising NFTS student prize went to Andrew Oldbury, whose numerous short film credits include Faithful, which was nominated for best short film at the 2016 Edinburgh International Film Festival.
Oldbury also took a prize handed out for health and safety management in film production, shared with Aaron Hillier.
Chris Auty, NFTS head of producing praised Oldbury: "During his time at NFTS, Andrew has been known for his generosity, persistence and willingness to reach out beyond his area doing stellar work across live fiction as well as projects outside his comfort zone including games and television entertainment."
The prize for cinematography went to Anna MacDonald, whose credits include being first assistant camera on horror anthology The ABCs Of Death.
NFTS co-head of cinematography, Stuart Harris, said of MacDonald's work: "Anna is a most creative cinematographer in her time at the school she has demonstrated her ability to work across a large variety of films. Coupled with a most engaging personality she will be a wonderful asset to our industry."
Three students on the production management diploma were feted: Marta Henriquez, Inês Lourenço, and Aaron Hillier.
Elsewhere, the award for excellence in sound design went to Morgan Muse for her work on animation Poles Apart.
Chris Pow, NFTS head of sound said: "In a very strong group of NFTS graduation film soundtracks, Morgan's work on the animation Poles Apart stood out as being both technically accomplished and narratively sophisticated."
Finally, the award for excellence in editing went to Jamie Kataky for his work on The Light Refracts Into The Shadows.
Fellowship
Malorie Blackman was presented with this year's NFTS Fellowship.
The former NFTS graduate has made a name for herself as a writer for television and as a children's author.
Her credits include 1996 TV movie Gadgetman and episodes of series Byker Grove.
She has written more than 60 children's books, including Pig Heart Boy, which she also adapted as a BBC series.
Blackman said: "I'm absolutely delighted to receive this Honorary Fellowship from the NFTS as I have such fond memories of my time spent studying there. The school is a great institution that supports and develops the best creative talent and provides a fantastic network of peers that you can call upon at any point in your career.
Nik Powell, NFTS director added: "It's important to us to recognise key figures who have made outstanding contributions to the industry and Malorie with her excellent track record in inspiring young people with her storytelling is no exception."