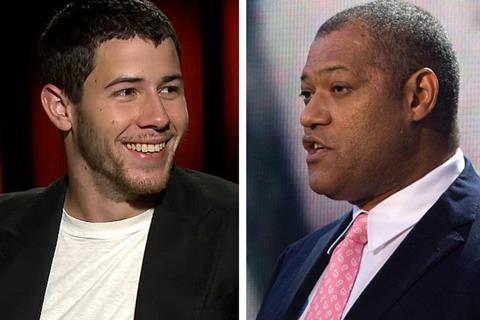 Singer-songwriter and actor Nick Jonas and Laurence Fishburne have signed on to Pierre Morel's action thriller The Blacksmith, which AGC Studios will finance and produce.
Ben Ripley (Source Code, Flatliners) adapted the screenplay from the graphic novel from Kickstart Comics by Malik Evans and Richard Sparkman and production has been earmarked for later this year.
Jon Shestack (Air Force One) is also producing with Kickstart Productions' Jason Netter (Wanted), and Jeremy Stein. AGC Studios CEO Stuart Ford and Linda McDonough are executive producers alongside Samantha Shear and Bob Sobhani.
Jonas will play a weapons expert or "blacksmith" who goes in search of his mentor and retired blacksmith (Fishburne) with a young CIA analyst in tow after his secret base and colleagues are killed. Morel's credits include Taken, Peppermint, and The Gunman.
"The Blacksmith provides a fresh, highly contemporary new take on the espionage genre and it's exciting to pair an exhilarating young talent like Nick with seasoned heavyweights such as Pierre and Laurence," said Ford.
"We'll soon be announcing an equally outstanding young female actor to play across from Nick and then we will have all the ingredients for a major new film franchise built around a very modern breed of action hero."
AGC Studios recently wrapped production on Neil Burger's YA sci-fi thriller Voyagers starring Tye Sheridan, Lily-Rose Depp, Fionn Whitehead, and Colin Farrell; Tate Taylor's comedy Breaking News In Yuba County with Allison Janney, Mila Kunis, Regina Hall, Awkwafina, and Wanda Sykes; revenge thriller The Secrets We Keep starring Noomi Rapace and Joel Kinnaman; and sci-fi TV series War Of The Worlds starring Gabriel Byrne and Elizabeth McGovern.