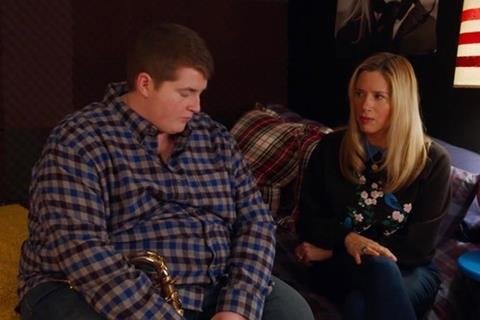 With the Cannes virtual market approaching on the horizon, Arclight Films has boarded worldwide sales on the completed teen comedy Butter starring Mira Sorvino and Annabeth Gish.
Paul A. Kaufman directed the feature based on Erin Jade Lange's book of the same name about a lonely teenager who announces to the web that he will live stream his own death by over-eating on New Year's Eve.
Joining Sorvino (Mighty Aphrodite, Romy And Michele's High School Reunion) and Gish (Mystic Pizza, Nixon, The Haunting Of Hill House) are McKaley Miller (Ma, Hart Of Dixie), and newcomer Alex Kersting from the TV show Stoneheart.
Butter was produced by The Power of Us Entertainment and Branded Pictures Entertainment, with Kaufman, J.Todd Harris, and Christina Sibul serving as producers.
"We are thrilled to bring this star-driven feature film to the international marketplace and announce Butter as one of our many new and exciting titles for our Cannes 2020 slate," said Arclight Films head Gary Hamilton.
"Butter marks the first of several projects brought to us by Matt Williams and we look forward to this successful collaboration with our friends at FAE Film & Television. Our buyers are looking for top-level films to drive their distribution timeline, and Butter ticks all the boxes. It is a dynamic original storyline that appeals to all demographics, boasting a cast that delivers and brings this unique heartwarming story to life," stated Hamilton.
"We are delighted to have Arclight represent Butter. They are known for having great taste in films and we look forward to working closely with their sales team on our unique and special film," added Kaufman.
The Arclight sales roster heading into the Cannes virtual market includes Twist starring Michael Caine, Lena Heady, and Rita Ora; female-driven action film Tomiris; thriller Let It Snow; and Here Are The Young Men starring Travis Fimmel, Dean-Charles Chapman, Finn Cole and Anya Taylor-Joy.
Hamilton and his team also represent sci-fi Heavens: The Boy And His Robot; Sundance sci-fi thriller Possessor starring Andrea Riseborough with Neon on board as Us distributor; and true-life prison break story Escape From Pretoria with Daniel Radcliffe.