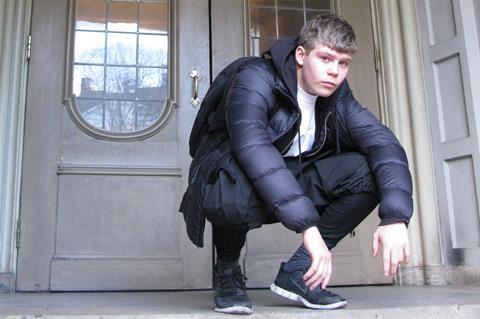 Hot Swedish rapper Yung Lean is heading to the big screen, in a feature documentary about how a geeky Swedish teenager (real name: Jonatan Leandoer) became a YouTube sensation with Frank Ocean and Justin Bieber chasing him to collaborate.
NonStop Entertainment has come on board for Scandinavian rights for the film, which follows Yung Lean's rise and temptation by fame, drugs and money; his stint in a mental hospital; and how he will move forward.
The rapper and his Sad Boys collective have toured extensively in Europe and he has released three studio albums.
Director Henrik Burman, a director and music journalist, has already started shooting the feature documentary. He has access to old home videos of Yung Lean as well as shooting new footage during his recovery.
Producers are David Herdies (Fragility, Winter Buoy) and Michael Krotkiewski for Momento Film and Ludvig Andersson – son of ABBA's Benny Andersson – for RMV Film.
Burman said: "With Jonatan, the extremes are always there, and they are central to the film I want to make. This is no music documentary in the traditional sense. It is the story of a generation through one artist's incredible rise to fame, a coming of age film in which a boy is thrown into a world as seductive as it is treacherous. It is a powerful story. Deeply tragic and difficult, but also one of hope, warmth and light"
Jakob Abrahamsson, CEO NonStop Entertainment, added: "After releasing a range of widely successful documentaries such as Searching For Sugar Man, Ingrid Bergman – In Her Own Words and Maria By Callas, it is now time for us to step into the world of another icon, and our most contemporary yet. Yung Lean will be the ride of 2019."
Burman's credits include Krunegård & Jinder on Tour, Sápmi Sessions and The Summer with Lykke Li and Cup Iran.