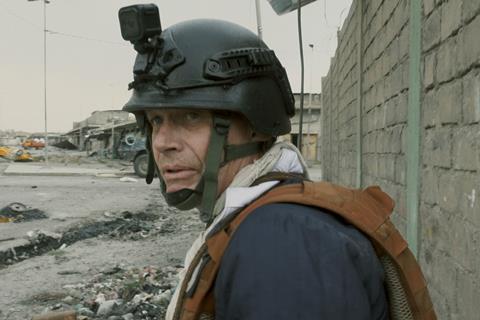 Two world premieres are among the line-up for the Nordic documentary competition of the 30th anniversary edition of the Nordisk Panorama Film Festival, which runs September 19-24 in Malmo, Sweden.
The first is Boris Benjamin Bertram's Photographer Of War (Denmark) about famed Danish war photographer Jan Grarup who has to learn to take care of his three children when his ex-wife becomes ill. LevelK handles sales.
The other is Hrafnhildur Gunnarsdóttir's The Vasulka Effect (Iceland), about two pioneers of video art who see a renewed interest from the art world when they are retired.
Hussain Currimbhoy, previously a programmer at Sundance and now the artistic director of The Red Sea Film Festival, served as guest programmer this year, working with associate programmer Nadia Abraham.
"This year we will celebrate our 30th anniversary with exceptional Nordic storytelling touching on diverse topics, from Icelandic video art to Syrian refugees to the MeToo movement," aid Anita Reher, executive director at Nordisk Panorama. "Our guest programmers have selected a wide range of films about people and subjects made by talented voices, from equal numbers of female and male filmmakers. In addition, we will showcase the best film gems from Nordisk Panorama's 30-year library through a dedicated online anniversary campaign."
There are also competitiions for best Nordic short film and Young Nordic-Children's Choice.
Best Nordic Documentary Competition
Forget Me Not (Den-S Kor)
Dir. Sun Hee Engelstoft
Mating (Swe)
Dir. Lina Mannheimer
Newstime (Fin-Ger)
Dir. Laura Horelli
Once Aurora (Nor)
Dirs. Stian Servoss, Benjamin Langeland
Q's Barbershop (Den) opening film
Dir. Emil Langballe
Reconstructing Utøya (Swe-Nor-Den)
Dir. Carl Javér
Scheme Birds (Swe-UK)
Dirs. Ellen Fiske, Ellinor Hallin
The Hypnotist (Fin)
Dir. Arthur Franck
The Reformist - A Female Imam (Den)
Dir. Marie Skovgaard
The Vasulka Effect (Ice-Cz-Den)
Dir. Hrafnhildur Gunnarsdóttir
Photographer of War (Den)
Dir. Boris Benjamin Bertram
War of Art (Nor-Ger)
Dir. Tommy Gulliksen
Who Made You? (Fin)
Dir. Iiris Härmä
Winter's Yearning (Nor-Den-Green)
Dirs. Sidse Torstholm Larsen, Sturla Pilskog
Best New Nordic Voice
A Word for Human (Den)
Dir. Mauricio Gonzalez-Aranda
Being More Like Bagsy (Nor)
Dir. Mikkel Storm Glomstein
Boy Gets Eaten (Nor)
Dir. Sebastian Lagerkvist
From Our Laundry (Swe)
Dirs. Jakob Eliasson, Albin Abrahamsson
Humanity on Trial (Den)
Dir. Jonas Bruun
Lindy the Return of Little Light (Swe)
Dir. Ida Persson Lännerberg
Maja (Den)
Dir. Marijana Jankovic
Patriotic Highway (Swe-Nor)
Dir. Caroline Troedsson
Recycling & Waste (Swe)
Dir. Julius Jorborg
She-Pack (Nor)
Dirs. Fanny Ovesen
Tom Has a Plant (Den)
Dirs. Thinh Nguyen
Turn (Ice-Fin)
Dir. Sesselía Ólafsdóttir, Peter Callow