Plus: CinemaCon names Male Star Of Tomorrow; Soda Pictures dates High-Rise; and more…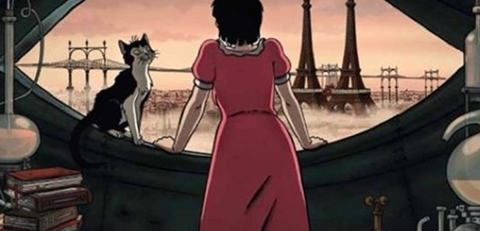 GKIDS has revealed its English voice cast for April And The Extraordinary World, the animation it acquired last year before its world premiere at the Annecy International Animated Film Festival.
Christian Desmares and Franck Ekinci's steampunk adventure adapted from Jacques Tardi's graphic novel about a girl's journey through a world where scientists have been imprisoned featured a French voice cast led by Marion Cotillard.
The English voice cast will feature Paul Giamatti, Tony Hale, Susan Sarandon and J.K. Simmons. Both English and French versions will play in the US when the film opens in New York on March 25 at IFC Center, and in Los Angeles at the Nuart Theater on April 1. National expansion follows on April 8.
Stephen Amell will receive the CinemaCon Male Star Of Tomorrow Award on April 14 in Las Vegas. Amell stars in Paramount Pictures and Nickelodeon Movies' Teenage Mutant Ninja Turtles: Out Of The Shadows that opens on June 3. CinemaCon runs from April 11-14.
Participant Media has promoted Gabriel Brakin to general counsel and executive vice president, business affairs. Brakin first joined Participant in 2008 as vice president, business and legal affairs.
Top brass at the Hamptons International Film Festival have announced the inaugural Melissa Mathison Fund for the 16th annual Screenwriters Lab, which will take place from April 8-10, in East Hampton, New York.
Thunderbird's Soda Pictures has set two Canadian release dates. Alice Winocour's Disorder (known as Maryland in French Canada) starring Matthias Schoenaerts and Diane Kruger opens on May 6, and Ben Wheatley's High-Rise with Tom Hiddleston, Jeremy Irons, Sienna Miller, Luke Evans, and Elisabeth Moss will arrive on May 20.