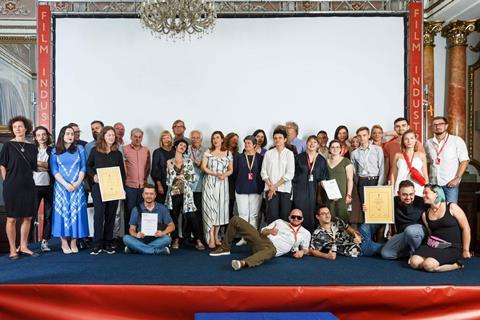 Projects from Ukraine, Georgia and Moldova were among the prize winners of this year's Pitching and Work in Progress competitions at Odesa International Film Festival (OIFF).
Before announcing the winners of the Pitching competition, former Israel Film Fund chief Katriel Schory said that it had ¨not been easy¨ for the international jury, which included producers Karsten Stöter (Rohfilm) and Guillaume de Seille (Arizona Films), to come to a final decision on which would be named the best project among the 12 pitches.
According to Schory, ¨it was one of the longest sessions I ever had as a jury member, lasting almost three hours".
The festival's cash prize of UAH 60,000 ($2,331) for the best project went to Georgian producer Vladimer Katcharava of Tbilisi-based 20 Steps Productions for George Sikhuralidze's debut feature, Panopticon, a coming of age drama set in post-Soviet Georgia.
Meanwhile, Ukrainian producer Vladimir Yatsenko of Kyiv-based Limelite saw two of the projects he had pitched in Odesa taking home awards.
Ukraine TV channel's UAH 60,000 ($2,331) cash prize went to writer-director-DoP Valentyn Vasyanovych's drama Reflection, set on the front line in Eastern Ukraine, which will be produced along with the director's own company Arsenal Films.
Reflection will be the second collaboration between Yatsenko and Vasyanovych after they worked on his feature Atlantis, which was shown to international guests attending OIFF in a closed screening as part of the new UA Films Showcase. The film is expected to have its world premiere at the forthcoming Venice Film Festival.
In addition, another debut feature being prepared by Yatsenko's Limelite, the tragicomedy U Are The Universe, earned writer-director Pavlo Ostrikov a special new prize sponsored by the Wajda Studio, which will enable Ostrikov to participate in the EKRAN+ 2020 training programme.
During their pitch, Yatsenko had explained that the €2.1m ($2.36m) Ukrainian/French language project is being planned as an Ukrainian-Belgian-French co-production, with some shooting days in France, and post-production and CGI work for the futuristic tale being done in Belgium.
Another new prize awarded at this year's pitching competition was sponsored by the United Nations' HeForShe global solidarity movement for gender equality.
The UAH 85,000 ($3,301) cash prize was shared between producers Valeria Sochyvets and Olena Yershova for Philip Sotnychenko's low-budget debut La Palisiada and Roman Bondarchuk's September 1, respectively.
Bondarchuk's tragicomedy, which is set to be shot on location in Kherson and Kyiv in Ukraine in autumn 2020, will be his second collaboration with Yershova after his 2018 fiction debut Volcano, which premiered in Karlovy Vary last year.
The Pitching jury also gave a special mention to Belarussian director Daria Zhuk's next feature, Our Breasts Are Our Weapons: The Story Of Femen, which is being planned as a co-production between Denis Ivanov's Traffic Films and France's Pan-Européenne to shoot from the end of 2020.
Zhuk, whose Crystal Swan won the Grand Prix at Odesa's Main International Competition last year, explained that the Femen members are serving as consultants on the €3.5m ($3.93m) film, but won't have final approval on the script. "If they have final approval, it won't be my film,¨ she said during the pitch, while Ivanov explained that this story of the cost Femen paid to become mass culture icons is ¨our passion project: we want to think big and appeal to a wide audience".
Work in Progress winners
Meanwhile, the Work in Progress International Jury, which included CineMart and Rotterdam Lab's manager Inke Van Loocke and sales agents Marie-Pierre Valle (Wild Bunch) and Laurent Danielou (LOCO Films), awarded the a cash prize of air travel to the value of €2,000 ($2,247) to Moldovan debutant Ioane Bobeica's Thunders. The production by Sergiu Cumatrenco Jr. and Madan Marin's Chisinau-based ISGT Group is in the final stages of post-production and will be ready by September.
Ukrainian filmmaker Ihor Ivanko's Fragile Memory, which is being produced by Babylon'13 and Burlaka Films with Dutch production house DOXY Films, was presented with a cash prize of UAH 60,000 ($2,331).
The documentary charts the young director's relationship with his grandfather Leonid Burlaka, a famous Soviet DoP, whose memory is increasingly failing as Alzheimer's takes its toll.
Ivanko explained that a transmedia element is being planned to complement the film, and invited participants at OIFF to visit an exhibition of his grandfather's photographs, which was being staged in Odesa during this year's film festival.
Elsewhere, a new collaboration between OIFF and the Ukrainian Institute on the occasion of the festival's 10th anniversary this year saw a cash prize of UAH 150,000 ($5,827) for international promotion measures go to Daria Onyschenko's The Forgotten, a highly topical drama set in Luhansk, the capital of the breakaway Luhansk People's Republic of Eastern Ukraine, which is being produced by Kyiv-based Directory Films.
OIFF Expanded
For the first time this year, the 25 projects selected for the Pitching and Work in Progress included eight from companies based in the Eastern Partnership countries of Georgia, Armenia, Azerbaijan, and the Republic of Moldova, as part of what the organisers billed as OIFF Expanded.
The award-winning Georgian project Panopticon was joined in the pitching line-up by fellow Georgian filmmaker Elene Mikaberidze's Border Games which has been three years in development and is being planned as co-production with Belgian producer Isabelle Truc's Iota Productions. The film has already received development funding from the Georgian National Film Center and the Ministry of Culture and participated in the Mediterranean Film Institute's script workshop.
The Odesa forum also served as a venue for the pitching of Armenian filmmaker Diana Kardumyan's Pas de Trois, which is set in the world of ballet and had participated in last year's EAVE producers training programme.
In addition, Azeri filmmaker Maria Ibrahimova, who has previously worked in documentaries, presented her fiction feature debut, the drama Hazel Eyes, which is currently being structured as a co-production between Baku-based Cinex Productions and Turkey's ZeynoFilm.
Alongside the award-winning Moldovan project Thunders, the Work in Progress selection also featured footage from Brighton 4, the new film by the Georgian director Levan Koguashvili, known to international festivals audiences for his previous features Street Days and Blind Dates.
The mixture of crime drama and comedy set within the Eastern European community in Brooklyn's Brighton Beach is being produced by Tbilisi-based Kino Iberica with partners from Bulgaria, Russia, the USA and Monaco, and producers Olena Yershova and Mira Staleva said that they were looking to raise additional finance for some further days of shooting in the USA.
Armenian co-directors Aren Malakyan and Vahagn Khachatryan were joined on stage for their pitch by German co-producer Eva Blondiau (Color of May), one of EFP's Producers on the Move in Cannes this year, for 5 Dreamers And A Horse, while the Georgian musician Konstantine Kalandadze was in Odesa to look for funding for the post-production and partners for animation sequences for his feature directorial debut The Drummer, produced by Tbilisi-based Parachute Films.
While the majority of the projects presented in both the pitching and work in progress sections were arthouse, there were a couple of projects which were more commercially oriented.
One of these is the horror thriller Let It Snow, set in the snowy mountains of Georgia, which marks the feature debut of Ukrainian director Stanisav Kapralov. The English language co-production by Solar Media with partners in the US and Spain has an international cast and crew, with post-production currently underway in the USA.
Elsewhere, Taras Dron's psychological drama Blindfold, about a female MMA fighter quitting her sport to look for her fiancé behind the front line in Eastern Ukraine, introduced international guests to a fresh new acting face in Maryna Koshkina who also stars in The Forgotten.