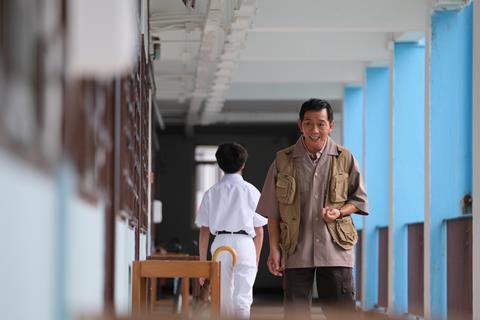 Hong Kong-based One Cool Film Production is making good on its promise to get the pandemic-hit local film industry back to work. The company's sales arm, One Cool Pictures, is attending Filmart Online with a slate of several new productions from both new and established filmmakers, including the first project from its partnership with Emperor Motion Pictures (EMP).
One Cool and EMP announced last year that they would co-produce and co-distribute a slate of films to support the local industry and develop new talent. At Filmart, One Cool Pictures is launching sales on the first title from that partnership – drama Stand Up Story, directed by Au Cheuk Man, whose credits include May We Chat (2014) and The Gigolo (2015).
Starring Ben Yuen (Suk Suk) and Ng Siu Hin (A Witness Out Of The Blue), the film tells the story of a man who gets involved in stand-up comedy, as an emotional outlet after becoming the primary caregiver to his intellectually disabled father. Filmed in Hong Kong last year, the project is currently in post-production.
One Cool is also launching sales on two other projects from emerging talents – drama Remember What I Forgot, directed by Chui Tze Yiu, and romantic drama Madalena, from Emily Chan Nga-Lei. Both projects are also in post-production.
Starring Philip Keung, Fish Liew and Dada Chan, Remember What I Forgot revolves around the tug-of-war between a reality TV show producer and a film buff who is bent on digging up the past. Chui previously directed romantic comedy YOLO, which is also in post-production, and popular Viu TV series, Who Sells Bricks In Hong Kong, for One Cool.
Set in Macau, Madalena stars Lois Cheung and Chrissie Chau in the story of an insomniac taxi driver his encounter with a passenger who works as a restaurant receptionist by day and bar hostess by night. Chan is a Macau-based filmmaker with credits including Timing (2014) and Our Seventeen (2017).
One Cool also produces big-budget action and suspense dramas – it currently has $55m sci-fi action drama Warriors Of Future and period action title Back To The Past in post-production – but decided to push a slate of local stories into production during the pandemic, to keep crews and talent working at a time when investment and new projects started drying up.
"These films are relatively less expensive to produce and provide work opportunities for film professionals," explains One Cool managing director Tang Wai But.
"We've mostly selected stories with positive and uplifting messages, as we hope to entertain audiences during this difficult time. At the same time, these projects give exposure to new actors and directors."
Other new projects on One Cool's slate include lockdown-inspired comedy All You Need Is Love, filmed as a non-profit project to support the local industry. A host of local stars, including Eric Tsang, Tony Leung Ka-Fai and Louis Cheung star in the film, also currently in post, about a group of hotel guests forced to undergo 14-day mandatory quarantine. Also in post-production, Jimmy Wan's On Your Mom, Get Set, Go! stars Sandra Ng and Chin Siu Ho in the true story of Hong Kong Paralympic Games athlete So Wa Wai.
One Cool is also prepping two crime thrillers starring company founder and leading Hong Kong star Louis Koo – Kwok Man Ki's Beyond The Sin, about an inspector who begins to suspect that his only daughter's killer is still out in the world, and Under Control, co-directed by Siu Kwan Lai, Wing Tai Lau and Sze Pak-lam, which revolves around a bank heist. The three directors previously worked together on Guilt By Design.
Even before Covid-19 hit Hong Kong, One Cool had produced a string of films from emerging talents – including Men On The Dragon, Tracey, A Witness Out The Blue and The Secret Diary Of A Mom To Be – which have played in international film festivals, as well as being well received at the local box office.