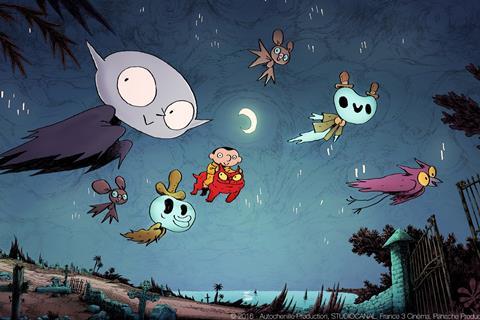 The Annecy International Film Festival has unveiled the 20 works that will compete in its main feature-length competition and Contrechamp competition, aimed at works by emerging talents.
The French lakeside animation festival and industry event will run online June 15 to 30, following the cancellation of its 2020 physical edition due to the Covid-19 pandemic.
French filmmaker Joann Sfar's comedy Little Vampire and Japanese animator Takashi Yamazaki's adventure tale Lupin III: The First will be among the 10 feature animations competing for the Crystal award for best film in the main competition.
Sfar's Little Vampire is adapted from his 1999 comic book and follows a young vampire who decides to go to school. It is his second feature-length animation after The Rabbi's Cat, which won the Crystal award for best film in 2011.
Other returnees include Rémi Chayé with Wild West set comedy-drama Calamity, A Childhood Of Martha Jane Cannary. Chayé picked up the audience award for Long Way North in 2015.
The festival also highlighted the return of Russian filmmaker Andrey Khrzhanovsky with The Nose Or The Conspiracy Of Mavericks, which is loosely adapted from 19th-century dramatist and writer Nikolai Gogol's classic work The Nose.
Yamazaki's 3D work Lupin III: The First takes inspiration from iconic French gentleman thief comic strip character Arsene Lupin.
Not all the features selected for competition will be put online during its virtual edition, but the festival said it hoped to show short extracts to the public instead.
"The financing conditions and session rights according to specific territories or markets prohibit certain films having unrestricted access," it explained. "In the event that certain films cannot be offered to all festivalgoers we have requested the producers provide a minimum 10-minute extract or to produce a short documentary presentation."
It added the juries would "of course" screen the films in their entirety
The main competition jury comprises Corinne Destombes, head of development at French animation company Folimage, journalist Benoit Pavan and Dominique Seutin, director of Belgian animation festival Anima.
The Contrechamps selection is marked by its diversity and the geographical spread of its works. They include Latvian filmmaker Ilze Burkovska Jacobsen's My Favorite War, based on the director's personal story, growing up in the Soviet Untion during the Cold War, and Egyptian-Saudi Arabian production The Knight And The Princess.
Feature films in the main 2020 competition.
The Nose Or The Conspiracy Of Maverick, dir. Andrey Khrzhanovsky (Russia)
Kill It And Leave this Town dir. Mariusz Willczynski (Poland)
Little Vampire dir. Joann Sfar (France)
Jungle Beat: The Movie dir. Brent Dawes (Mauritius)
Lupin III The First dir. Takashi Yamazaki (Japan)
7 Days War dir. Yuta Murano (Japan)
Ginger's Tale dir. Konstantin Scherkin (Russia)
Bigfoot Family dirs. Ben Stassen, Jérémie Degruson (Belgium, France)
Calamity, A Childhood Of Martha Jane Cannary dir. Rémi Chayé (France, Denmark)
Nahuel And The Magic Book dir. German Acuña (Chile)
Feature Films in the Contrechamp competition
On Gaku: Our Sound! Dir. Kenji Iwaisawa (Japan)
The Old Man – The Movie dir. Mikk Mägi, Oskar Lehemaa (Estonia)
Lava dir. Ayar Blasco (Argentina)
Accidental Luxuriance Of The Translucent Watery Rebus dir. Dalibor Baric (Croatia)
Beauty Water dir. Kyung-hun Cho (South Korea)
My Favorite War dir. Idlze Burkovska Jacobsen (Latvia, Norway)
The Shaman Sorceress dir. Jae-huun Ahn (South Korea)
The Legend Of Hei dir. Ping Zhang (China)
True North dir. Eiji Han Shimizu (Japan, Indonesia)
The Knight And The Princess dir. Bashir El Deek, Ibrahim Mousa (Saudi Arabia, Egypt)