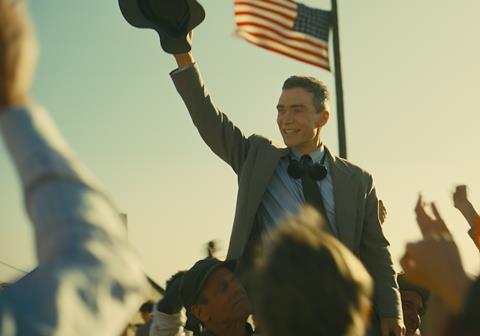 UPDATED: Universal Pictures has crossed the $4bn mark at the global box office thanks in large part to the mighty performances of The Super Mario Bros. Movie and Oppenheimer, which crossed $900m over the weekend.

The studio is the second to accomplish the feat in 2023 and only the third to do so since 2019. This is Universal's fourth time past the threshold after 2015, 2017, and 2018.
Christopher Nolan's Oppenheimer reached an estimated $912.7m by Sunday after a $12.9m three-day gross.
That is an exceptional number for a sombre, three-hour live-action film without capes and superpowers. Oppenheimer became the highest-grossing biopic at the global box office this weekend when it overtook the $910.8m final gross set by Bohemian Rhapsody in 2018.
The celebrated tentpole starring Cillian Murphy brought in an additional $10.8m internationally for approximately $594m, and $2.1m in North America for a $318.6m running total.
Oppenheimer ranks as Nolan's third highest-grossing film at the global box office, Universal's 12th biggest film of all time, and the studio's biggest non-franchise release.
The Super Mario Bros. Movie stands at $1.36bn worldwide, comprising $785.5m internationally and $574.9m in North America. It ranks as the second high-grossing film of the year behind Warner Bros' Barbie on more than $1.4bn worldwide.