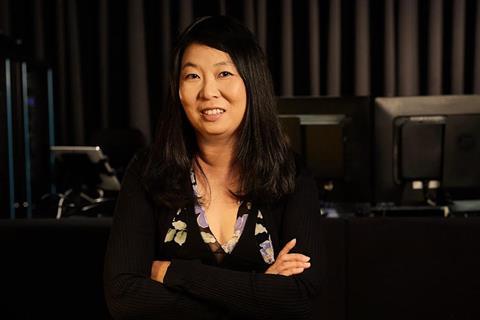 Oriental DreamWorks (ODW), a venture backed by DreamWorks Animation, CMC Capital Partners, Shanghai Media Group, and Shanghai Alliance Investment Limited, have announced the appointment of Peilin Chou as chief creative officer. The company also unveiled several key projects Chou has been shepherding.
Previously the head of creative for Oriental DreamWorks, in her new role, Chou will be responsible for shaping the animation studio's overall creative direction and overseeing all of its animated feature films, including the previously announced Everest, which will be distributed by Universal Pictures in 2019.
Oriental DreamWorks is an animation studio focused on the production of family-oriented feature animation motion pictures for the global market, with hyper-appeal in China.
Chou comes to ODW with over two decades of industry experience in film, television, and theatre. She previously held positions as vice-president of original series at Spike TV, senior vice-president of programming at AZN Television, and director of development at Nickelodeon. She also served as a development executive at Walt Disney Feature Animation and Touchstone Pictures, where she was part of the team that developed and produced Mulan, Toy Story 2, Phenomenon and Romy & Michele's High School Reunion.
"We are very excited that Peilin Chou is taking on this role as we expand our slate and commit to bringing audiences worldwide the highest quality in animated entertainment," Li Ruigang, chairman of ODW and Chairman and CEO of CMC Capital Partners, said. "I know she will make a tremendous contribution to Oriental DreamWorks. Peilin's extensive experience in creating successful global content, and her cultural connection and passion for China, make her uniquely qualified to lead the global mission of ODW. As a well-loved industry veteran with deep relationships, Peilin is attracting a wealth of world class talent to our studio, which I know will greatly enrich all of our films and projects."
Chou will be based in Shanghai and New York City, where she will continue to build and produce a broad slate that includes more than a dozen active projects, including Over The Moon, a modern-day retelling of the classic Chinese myth about a mysterious moon goddess named Chang'e; and the Untitled Chinatown Project, a comedic, action-packed intergenerational adventure with supernatural elements conceived and executive produced by Master Of None's Alan Yang.
Other projects on ODW's slate are The Monkey King written by Ron Friedman & Steve Bencich that centres on China's most legendary, mystical and mischievous superhero; irreverent feline comedy Illlumikitty from Rio 2 screenwriter Jenny Bicks; and animated buddy comedy Lucky, which takes you behind the scenes of Chinese superstition and the battle between good luck and bad luck. Lucky is currently being written by Mulan and Toy Story 2 screenwriter Rita Hsiao.
"On behalf of the ODW management team, I'm elated that Peilin Chou will be expanding her creative leadership in a greater capacity for ODW," Frank Zhu, CEO of ODW, said. "Since Peilin joined ODW in September, 2015, she has brought an exceptional vision to all of the company's creative efforts. Under her leadership, she has already created and fostered a strong development slate of projects, an exciting upcoming pipeline of films and a remarkable development team. I believe her talent, experience and passion make her an invaluable executive and I am thrilled she will be leading our charge of delivering the very best in family entertainment to China and the rest of the world."
Chou said: "Animation is a universal language that everyone understands and enjoys whether you live in Shanghai or Queens. Creating global animated films, infused with authentic Chinese elements, is a lifelong personal passion of mine. To be able to do that at ODW, with the strong support of Ruigang, the extraordinary partnership of Frank, and the crazy talented filmmakers we have in our greater ODW family is truly a dream come true. I am over the moon excited for this amazing and inspiring opportunity."