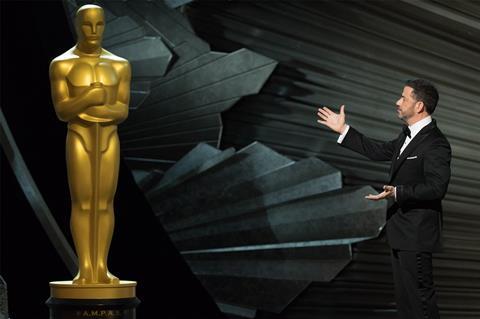 The Academy's Oscar facelift on Wednesday (August 8) sparked a social media storm over the integrity of the show and raised concerns over international distribution and marketing strategy for awards contenders in 2020 and beyond.
While commentators took to social media to express disdain for the newly announced 'popular film' Oscar, arguing in many cases that it could ghettoise acclaimed work like Black Panther, logistical anxiety was already brewing over the date change that comes into effect in 2020.
Insiders told Screen that while the decision to move up that year's telecast to February 9 recognises the US awards season has become too long and is turning the Oscars into something of an anti-climax, it could create a big headache outside the US.
Studio executives typically aim to launch their awards contenders internationally in January in a six-to-eight-week corridor spanning the nominations announcement to the telecast itself.
This, sources say, is the prime window when a film can capitalise on kudos before it opens around the world in the run-up to the big night. An Oscars show dated considerably earlier in the season means the same amount of films will now have to squeeze into a shorter lucrative window.
"You date in that window to be able to put your nominations on your advertising materials," said one person involved in Hollywood awards campaigns. "If you shorten the window, this is going to affect international plans."
The Academy's decision to present an Oscar for outstanding achievement in popular film is a clear bid for street credibility in light of ongoing criticism that the telecast lacks a populist touch, despite an influx of gender-balanced, younger and more ethnically diverse members over the past two years.
It remains to be seen who will vote on the award and what the eligibility rules will look like, yet predictably Twitter erupted.
New York Times critic Manohla Dargis posted: "co-sign - what a fucking stupid, insulting and pathetically desperate change #Oscars @TheAcademy."
"The film business passed away today with the announcement of the "popular" film Oscar," wrote Rob Lowe. "It had been in poor health for a number of years. It is survived by sequels, tent-poles, and vertical integration."
"Black Panther" for "Best Popular Movie" #Oscars2019," said author Nila N. Brown. "Yeah - because white voting members can't trust themselves to vote for it because it was good, they potentially want to give it a participation trophy. Why not dip it in chrome and present it in a Crown Royal bag…"
Brown's comment touched on the most obvious nerve. Disney is understood to be gearing up for a broad all-category campaign for its $1.3bn global phenomenon. Executives had not returned calls at time of writing, although Screen has learned the Academy's move came as a surprise to key decision-makers in Hollywood.
Nolan Zugernat tweeted: "BLACK PANTHER's unprecedented success is a remarkable achievement for black filmmaking." THE OSCARS: "Let's make up a new ghetto category so we don't have to give it Best Picture."
The 91st Academy Awards will take place on February 24, 2019.