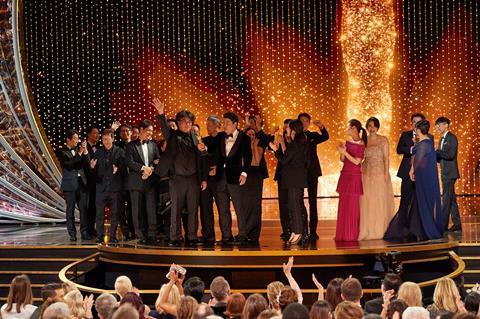 South Korea's Parasite has made history and become the first foreign-language film to win the best picture Oscar, capping an extraordinary night for the trailblazer with four wins in Hollywood on Sunday (9).
Earlier Bong Joon Ho was named best director for Parasite and said, "Thank you, I will drink until next morning." Sam Mendes had been expected to win after claiming the top award at the Directors Guild of America ceremony recently for 1917.
Parasite also became the first film to win the recently renamed best international feature Oscar and the first from South Korea to win the award in the history of the Academy's award-giving for a foreign language film.
Accepting that honour, Bong welcomed the category name change. He also won for best original screenplay, sharing the honour with Han Jin-won.
Joaquin Phoenix won best actor for Joker and Renée Zellweger best actress for Judy in two of the most widely predicted awards of the night after their recent wins at the Baftas and Golden Globes. Their victories were notable for recognition of a lead actor playing a comic-book character, and Zellweger's triumphant return after several years of self-imposed isolation.
Joker began the night on a field-leading 11 nominations and won two for Phoenix and composer Hildur Guðnadóttir. Netflix's The Irishman started with 10 nods and Martin Scorsese's mob drama left empty-handed, although there were two senior feature category wins for the streaming giant as Laura Dern won best supporting actress for Marriage Story and American Factory triumphed in the documentary category.
An emotional Elton John and Bernie Taupin won the best original song Oscar with 'I'm Gonna Love Me Again' from Rocketman. Immediately prior to that, Guðnadóttir won the best score Oscar for Joker. Sigourney Weaver, flanked by Captain Marvel star Brie Larson and Wonder Woman herself Gal Gadot, appeared on stage to introduce a female conductor for the in-house orchestra prior to the best composer presentation. She tapped into the populist pro-equality tone of the night when she declared, "All women are superheroes."
Dern won the best supporting actress Oscar for Marriage Story after Brad Pitt won the first award of the night for supporting actor for Once Upon A Time… In Hollywood. Both actors had been expected to win after they blazed a trail of success throughout awards season.
1917 won three Oscars for visual effects for Guillaume Rocheron, Greg Butler, and Dominic Tuohy, Roger Deakins for cinematography, and Mark Taylor and Stuart Wilson for sound mixing.
Michael McCusker and Andrew Buckland picked up the editing Academy Award for Ford v Ferrari. Earlier in the ceremony, Donald Sylvester won for sound editing Oscar for Ford v Ferrari and noted the film was probably one of the last to be made by Fox.
Jojo Rabbit triumphed for best-adapted screenplay. Toy Story 4 was named best animation and Hair Love won for best short animation. Kazu Hiro, Anne Morgan, Vivian Baker won the make-up and hairstyling Oscar for Bombshell.
Once Upon A Time… In Hollywood' won that film's second Oscar of the night for best production design, while Little Women prevailed in the costume design category.
The Neighbor's Widow won best live-action short film, and Learning To Skateboard In A Warzone (If You're A Girl) won for best documentary short.
Besides the winners, there were several highlights in an otherwise scrappy, hostless show that to its credit strove to push the theme of inclusion to the forefront. Billie Eilish covered The Beatles' 'Yesterday' to accompany the In Memoriam section. Eminem came on to perform Lose Yourself 17 years after his no-show when his song from 8 Mile won the Oscar, and Tom Hanks took to the stage to announce that the Academy Museum of Motion Pictures will open on December 14.
Janelle Monáe kicked off the ceremony with a song-and-dance routine, telling the Dolby Theatre mid-performance, "We celebrate all the women who directed phenomenal films and I'm so happy to stand here as a black, queer artist telling stories."
Steve Martin and Chris Rock come on with a brief comedy routine in which Rock quipped, "Cynthia [Erivo, Harriet] did such a good job hiding black people in Harriet that the Academy got her to hide all the black nominees."
For the second year in a row, the show did not have a host; instead, a rolling list of presenters included Tom Hanks, Natalie Portman, Timothée Chalamet, and Mindy Kaling.