Yôji Yamada's fantasy drama selected as Japan's nominee for the Academy Award for Best Foreign Language Film.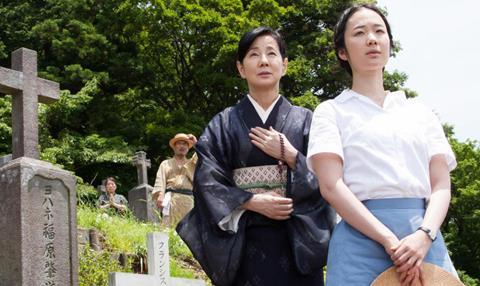 Japan has selected Yôji Yamada's Nagasaki: Memories Of My Son as its Best Foreign Language Film submission for this year's Academy Awards.
The film, produced by the Asahi Broadcasting Corporation and distributed worldwide by Shochiku International, is set in 1948, in post-World War II Japan.
The drama charts the story of midwife Nobuko (Sayuri Yoshinaga) who is resolved to move on as she stands at the grave of her son Koji (Kazunari Ninomiya) who died when the Americans bombed Nagasaki. However, upon returning home, she is visited by an apparition of her son, who continues to return in order to reminisce with his mother about the past, family, affection and war.
Nagasaki, also known as Living With My Mother, which is a literal translation of its Japanese title, Haha To Kuraseba, was released in Japan in December 2015 and garnered Best Actor (Kazunari Ninomiya) and Best Actress Awards (Haru Kuroki for her role as Koji's former girlfriend) at the Awards of the Japanese Academy this year.
The origins of Nagasaki lie in a conversation between Yamada and Maya Ishikawa, daughter of the late author Hisashi Inoue. After depicting Hiroshima in Chichi To Kuraseba (Living With My Father) and Okinawa in the unfinished Ki No Ue No Guntai (Army On The Tree), Inoue, towards the end of his life, felt strongly compelled to create a story set in Nagasaki. When Yamada heard from Ishikawa that Inoue had wanted to write a tale called Haha To Kuraseba that took place in Nagasaki, he was deeply moved and was determined to make a film along those same lines.
Yamada, who co-wrote the Nagasaki screenplay with Emiko Hiramatsu, was previously nominated for a Best Foreign Language Film Academy Award in 2003 for The Twilight Samurai.