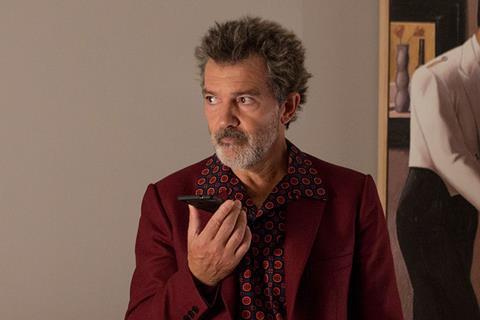 The Nominations for the 2019 European Film Academy Awards were revealed this afternoon at the Seville European Film Festival, with Pedro Almodovar's Pain And Glory, Roman Polanski's An Officer And A Spy and Marco Bellocchio's The Traitor leading the way with four nominations each.
The trio are all up for best European film alongside Yorgos Lanthimos' The Favourite, just behind with three nominations including best actress for Olivia Colman, and Ladj Ly's Les Misérables, with two nominations.
Portrait Of A Lady On Fire missed out in the best film category, but did earn best director and screenwriter nods for Céline Sciamma, and a joint best actress nomination for the film's stars Noémie Merlant and Adèle Haenel.
More than 3,600 EFA members will now vote for the winners, with the awards ceremony taking place in Berlin on December 7.
The nominees are:
European Film
An Officer And A Spy (France, Italy), Dir. Roman Polanski
Les Misérables (France), Dir. Ladj Ly
Pain And Glory (Spain), Dir. Pedro Almodóvar
System Crasher (Germany), Dir. Nora Fingscheidt
The Favourite (Uk, Ireland), Dir. Yorgos Lanthimos
The Traitor (Italy), Dir. Marco Bellocchio
European Documentary
For Sama (UK, USA), Dirs. Waad Al-Kateab & Edward Watts
Honeyland (North Macedonia), Dir. Ljubomir Stefanov & Tamara Kotevska
Putin's Witnesses (Latvia, Switzerland, Czech Republic), Dir. Vitaly Mansky
Selfie (France, Italy), Dir. Agostino Ferrente
The Disappearance Of My Mother (Italy, USA), Dir. Beniamino Barrese
European Director
Pedro Almodóvar for Pain And Glory
Marco Bellocchio for The Traitor
Yorgos Lanthimos for The Favourite
Roman Polanski for An Officer And A Spy
Céline Sciamma for Portrait Of A Lady On Fire
European Actress
Olivia Colman in The Favourite
Trine Dyrholm in Queen Of Hearts
Noémie Merlant and Adèle Haenel in Portrait Of A Lady On Fire
Viktoria Miroshnichenko in Beanpole
Helena Zengel in System Crasher
European Actor
Antonio Banderas in Pain And Glory
Jean Dujardin in An Officer And A Spy
Pierfrancesco Favino in The Traitor
Levan Gelbakhiani in And Then We Danced
Alexander Scheer in Gundermann
Ingvar E. Sigurðsson in A White, White Day
European Screenwriter
Pedro Almodóvar for Pain And Glory
Marco Bellocchio, Ludovica Rampoldi, Valia Santella & Francesco Piccolo for The Traitor
Robert Harris & Roman Polanski for An Officer And A Spy
Ladj Ly, Giordano Gederlini & Alexis Manenti for Les Misérables
Céline Sciamma for Portrait Of A Lady On Fire