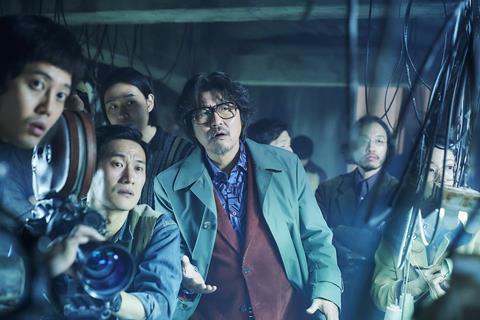 South Korea's Barunson E&A is set to launch sales on director Kim Jee-woon's much-anticipated drama and black comedy Cobweb, starring Cannes best actor awardee Song Kang-ho of Broker, at the European Film Market (EFM).
The recently launched sales unit of the production company behind Bong Joon Ho's Oscar-winning Parasite will handle the film's international sales excluding French-speaking territories, which will be handled by leading independent Korean sales agent Finecut.
The film is produced by Anthology Studios, Barunson Studio (an affiliate of Barunson E&A), and Luz y Sonidos.
Cobweb has been in post-production since June 2022 and is set for release this year.
Set in 1970s South Korea, when censors could dictate the plot of a film, Cobweb stars Song as the obsessive artist Director Kim, who is hell-bent on re-shooting the ending of his latest feature – a tragicomic feature called Cobweb – to transform it into a masterpiece in two days. His cast and crew are confused and uncooperative while the censors are meddlesome, and chaos lurks around every corner.
It marks the fifth on-screen collaboration between Song and Kim Jee-woon, who first worked together on 1997 black comedy horror film The Quiet Family, which won the best live action film award at Fantasporto film festival; before comedy drama The Foul King, which went to a raft of festivals including Toronto in 2000 and Berlin in 2001; the so-called Oriental Western The Good, The Bad, The Weird, which screened at Cannes in 2008; and historical spy action thriller The Age of Shadows, which was at Venice in 2016.
Song is joined by Im Soo-jung, who starred in Kim Jee-woon's seminal horror film A Tale of Two Sisters 20 years ago. She plays the titular Veteran Actress while Oh Jung-se, from TV series It's Okay To Not Be Okay and When The Camellia Blooms, plays the womanizing Lead Actor.
Jeon Yeo-been, from Netflix's Night In Paradise and TV series Vincenzo, plays the role of the production company Heiress and the lone supporter of Director Kim's vision.
Former K-pop star and actress Jung Soo-jung (aka Krystal Jung), from Netflix's Sweet & Sour, rounds out the cast as the up-and-coming Rookie on the doomed movie set.
At EFM, Barunson E&A will also be selling romantic comedy Honeysweet, written by Lee Byoung-heon - the director of South Korea's second biggest all-time box office hit Extreme Job (2019); Love Reset, a romantic comedy about a soon-to-be-divorced couple who fall in love with each other again after losing their memories; Nocturnal, an action thriller by the producers of last year's Hunt, starring Ha Jung-woo from Netflix's Narco-Saints and director Park Chan-wook's The Handmaiden.