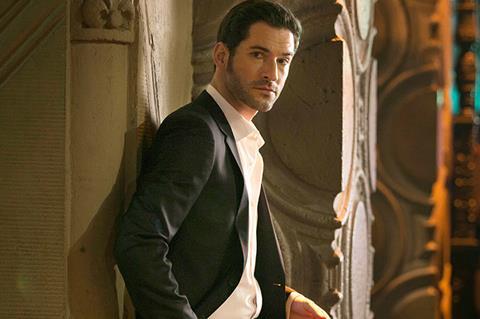 A report of viewing habits in the Caribbean conducted by Parrot Analytics has revealed crime dramas account for nearly one-tenth of demand for all content in the region.
Research conducted by the Los Angeles-based data science firm used the company's proprietary Demand Expressions, a weighted metric that gauges total audience demand expressed for a title or genre within a market and reflects desire, engagement and viewership.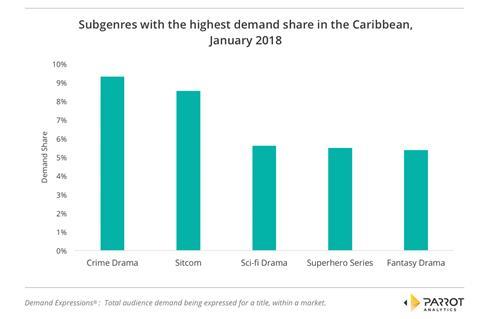 The crime genre accounted for 9.3% of demand for all types of content in January 2018. The second most in-demand subgenre was sitcoms, which commanded 8.6% demand share, followed by sci-fi drama on 5.6% of demand for all content.
When Parrot Analytics calculated average demand in January for a title in the superhero subgenre across all territories worldwide, Trinidad & Tobago emerged as the market that demonstrated the highest demand for a bucket of titles like Jessica Jones, Legion, Supergirl, The Tick, among others.
The research firm adjusted its results to normalise the data across all territories (Trinidad & Tobago has a tiny population compared to, say, the UK) and based on that, the island nation delivered 1.6 Demand Expressions per 100 people. Singapore came second on 1.58 per 100 capita, and Jamaica third on 1.57.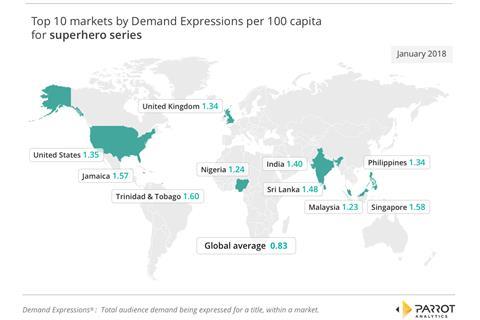 Parrot also extended its study to focus on demand in two Caribbean territories – Jamaica, where HBO's Game Of Thrones and FOX's The Walking Dead were usurped by other titles, and Puerto Rico.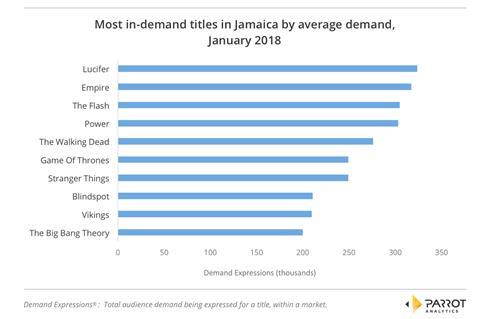 Perhaps unsurprisingly, all of January's most in-demand titles in Jamaica originated in the US. The show with the highest average demand was FOX's Lucifer (pictured), followed by FOX's Empire, The CW's The Flash, and Starz's Power from Starz is fourth.
Puerto Rico's most in-demand titles did not all originate in the US. While the top three were Netflix's Stranger Things, FOX's The Walking Dead and HBO's Game Of Thrones, two Spanish shows made it into the top 10.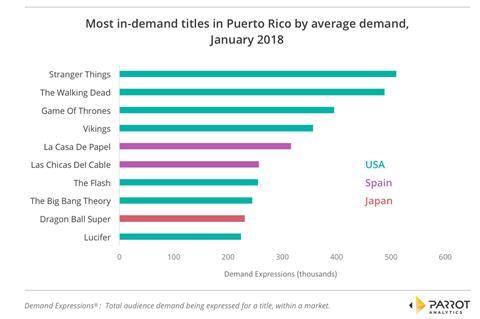 The presence of Antena 3's heist drama La Casa De Papel and Netflix's Las Chicas Del Cable reflect the fact that Spanish is the main spoken language in the US territory. Japanese anime title Dragon Ball Super and HISTORY's Vikings also made in on to the roster.
Parrot does not yet collect data in Cuba, which was not reflected in the study.