Amid a 22% slide, Jennifer Lawrence and Chris Pratt sci-fi Passengers soared to the top of the chart in its second week.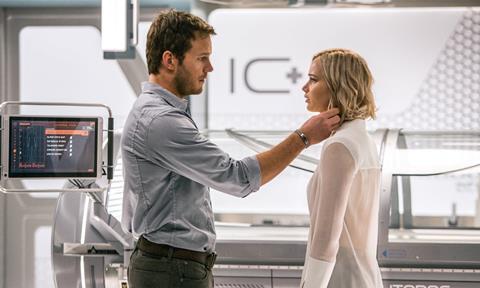 The Chinese box office continued its downwards slide – by approximately 22% last week – as the country gears up for the busy Chinese New Year holidays starting on January 28.
Passengers flew to the top of the chart in the third week of the month (January 16-22), posting $16.94m for a 10-day total of $34.31m. The sci-fi romance from Sony ruled the weekend but opened in second overall two weeks ago.
Another sci-fi, Denis Villeneuve's Arrival, landed in fourth place with $7.26m from its first three days, as the only new entry that entered the top ten weekly chart.
The new film from Paramount debuted on Friday and narrowly won the weekend, although Passengers overtook it on both Saturday and Sunday.
In its fourth week, local romantic comedy Some Like It Hot was resurgent, moving back up one notch to second spot with $12.61m. The low-budget production with no big-name cast has emerged as the first dark horse of 2017, raking in $82.27m after 24 days.
Former table-topper Rogue One: A Star Wars Story dropped to third on $8.63m. With $61.20m after 17 days, the Disney spin-off is not far off the total of Star Trek Beyond, but has only achieved half of Star Wars: The Force Awakens' gross.
Local family animation Backkhom Bear: Agent 008 remained in fifth with $6.91m for $12.78m after ten days; ahead of Jackie Chan's Railroad Tigers, which dropped to the sixth on $3.59m for $96.63m after 31 days.
The last four titles in the top ten each moved down one place: Zhang Yimou's The Great Wall on $2.31m for $165.27m after 38 days; Universal's fantasy animation Kubo And The Two Strings on $2.22m for $5.23m after 10 days; Mel Gibson's Hacksaw Ridge, currently the biggest imported war film in China, on $1.22m for a 46-day total of $59.60m; and local animation Boonie Bears: Entangled Worlds on $1.18m for $2.91m based on previews only.
Chinese films are set to be the dominating force when the Chinese New Year titles are unleashed on January 28. In addition to the latest Boonie Bears, the hot contenders are Journey To The West: The Demons Strike Back, Buddies In India, Kung Fu Yoga, Duckweed and The Village Of No Return.