The Oscar-winning writer was delivering a talk at Toronto's Script to Screen Summit.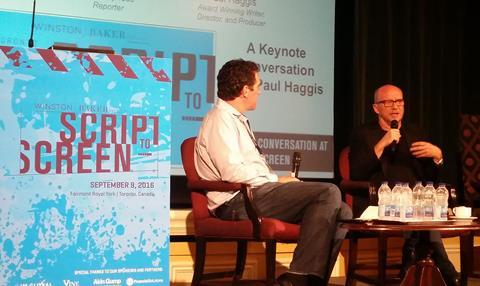 The time is right for a black James Bond, and Eon producer Barbara Broccoli might be brave enough to hire one, said writer/director Paul Haggis, kicking off Friday's Script to Screen Summit presented by Winston Baker here at Toronto International Film Festival (Sept 8-18).
Haggis, who wrote the screenplays for Casino Royale and Quantum Of Solace, noted he had no connection to Bond anymore but he said "I would go for a black Bond.
"Barbara [Broccoli] is really brave, and so is Michael [G Wilson], I think she might do it. " He added that Broccoli already proved her bravery "and took a lot of heat" in hiring Daniel Craig as the first blond Bond. "She just didn't care, she's very brave, she's wonderful."
In his opening keynote talk, double Oscar-winner Haggis also spoke about the opportunities and challenges of the Western film world working more with China. His current projects include directing six episodes of HBO mini-series Show Me A Hero, and later this year, writing and directing Dick Cook Studios' big family feature Ranger's Apprentice, which is backed by China's Film Carnival and Citic Guoan. Haggis said he had a further two projects in development that could tap into Chinese backing.
"It's a very different society and the rules are evolving…. [These investors] all have their own specific set of challenges, but I haven't found it to be a drawback so far. They are good partners, I think it's a possibility," he said.
He continued, "We can't be arrogant, they are a large part of the world, the system is different to ours and it's evolving constantly."
"There are things we should do and shouldn't do," he added. For instance, he has turned down offers to be on the Beijing International Film Festival jury, because, he said, "I didn't feel that I could be on a jury where there is film censorship. But I went there I loved it and I love being a part of the evolving industry. You have to treat them with respect and see where it goes."
Closer to home, he said the talk now of the hard times for independent, original dramas at the US studios is nothing new, that "we've been saying these same boring things in these conferences forever" since the time of Crash (2004) and Million Dollar Baby in 2004.
"I wrote a thriller on spec last year, I set it in Italy it was an original concept. I gave it to my agents and they said, 'Oh [the studios] probably want commercial films. It's not a comic book film, it's not a franchise. I thought, 'Wow, that's what it is now'…But I love independent filmmaking, that's who I am, we do hard things, that's what we do."
He noted that it was a rough path to getting both Crash and Million Dollar Baby made. "They were turned down by every studio in Hollywood, and every production company in the US and Canada."
Haggis struck a positive notes for aspiring independent filmmakers in the audience, saying they shouldn't be depressed about the studios' focus on comic book adaptations because at some point "the sure things stop working, then they scramble and they start trusting writers, directors and producers with vision.
"These things start to fail, the studios don't know how to make things different, they know how to make things the same. And these are very smart executives but they have to report to shareholders. It's just the way corporations work, they take a safer approach. Your opportunities come when the safer projects fail."
Other speakers at the event included Peter Saraf of Big Beach, Stephanie Azam of Telefilm Canada, John Penotti of Sidney Kimmel Entertainment & Ivanhoe Pictures, and Laurie May of Elevation Pictures.