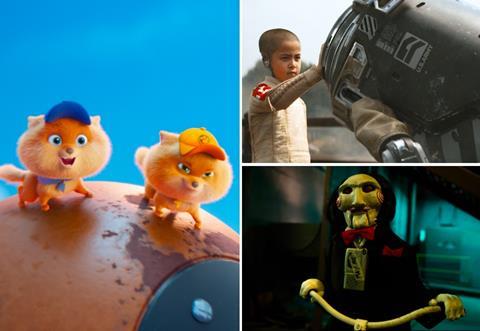 Worldwide box office Sept 29-Oct 1
| | | | | | | |
| --- | --- | --- | --- | --- | --- | --- |
| Rank | Film (distributor) | 3-day (world) | Cume (world) | 3-day (int'l) | Cume (int'l) | Territories |
| 1. | Under The Light (various) | $54.8m | $61.9m | $54.8m | $61.9m | 1 |
| 2. | Paw Patrol: The Mighty Movie (Paramount) | $46.1m | $46.1m | $23.1m | $23.1m | 46 |
| 3. | Ex-Files 4: The Marriage Plan (various) | $41.4m | $53.9m | $41.4m | $53.9m | 6 |
| 4. | The Creator (Disney) | $32.3m | $32.3m | $18.3m | $18.3m | 49 |
| 5. | The Volunteers: To The War (various) | $30.8m | $34.5m | $30.8m | $34.5m | 2 |
| 6. | Saw X (various) | $29.3m | $29.3m | $11.3m | $11.3m | 51 |
| 7. | Moscow Mission (various) | $22.9m | $22.9m | $22.9m | $22.9m | 1 |
| 8. | The Nun II (Warner Bros) | $17.5m | $231.2m | $12.8m | $154.4m | 76 |
| 9. | A Haunting In Venice (Disney) | $10.8m | $89.8m | $7m | $58.2m | 53 |
| 10. | Dr. Cheon And The Lost Talisman (various) | $7.7m | $7.8m | $7.7m | $7.8m | 2 |
Credit: Comscore. All figures are estimates.
'Paw Patrol: The Mighty Movie' bow-wows with $46m debut
UPDATE: Paramount's Paw Patrol: The Mighty Movie is the top US studio film in the worldwide market, as the animation debuts with an estimated $23.0m in North America, and expands from two to 45 international territories, grossing a confirmed $23.1m. The numbers combine to give an estimated $46.1m opening.
The cumulative total is also given as $46.1m, so – seemingly – the earlier first week in Australia and New Zealand (totalling around $2.1m) has been added into the international launch number.
On a like-for-like basis, including previews, the launch for Paw Patrol: The Mighty Movie is 70% ahead of 2021's Paw Patrol: The Movie in international territories released so far. In North America, the estimated $23.0m launch is 76% ahead of the $13.1m debut of Paw Patrol: The Movie.
China is the top international market, with an opening confirmed by Paramount at $5.3m. (Chinese data gatherer Artisan Gateway reports $5.4m for the film.) Next come Mexico and Germany on confirmed debuts of $2.7m and $2.3m.
In UK/Ireland, a potentially strong market, the film played previews at the weekend, and will do so again this coming weekend, ahead of an official October 13 opening.
In Australia, the total after two weekends of play is $2.8m following $1m in the second weekend, with New Zealand at $477,000 after adding $214,000.
The coming weekend sees Paw Patrol: The Mighty Movie open in 12 more markets including Brazil and South Korea. Later markets include Spain and France (both October 11) and Japan (December 15).
The film is chasing the $144.3m worldwide total achieved by Paw Patrol: The Movie:$40.1m in North America and $104.2m for international. The franchise began in 2013 as a Canadian animated TV series.
Some markets saw theatrical releases for earlier Paw Patrol feature-length films such as 2019's Ready, Race, Rescue!. However, the film franchise is considered to have begun in earnest with Paw Patrol: The Movie. Both that film and the latest sequel are directed by Cal Brunker, who previously helmed 2017's The Nut Job 2: Nutty By Nature.
'The Creator' lands with $32m
UPDATE: Disney/20th Century Studios' release of New Regency's The Creator has delivered a confirmed debut of $14.0m in North America and $18.3m for 48 international markets, combining for a $32.3m launch.
While Gareth Edwards' sci-fi action film has a fair way to go to achieve profitability given a reported production cost of $80m, the opening numbers might be viewed as decent for an original story, not based on any existing IP.
UK/Ireland leads the international pack with a confirmed four-day $2.8m, ahead of France (estimated $2.0m), Germany ($1.2m) and Australia ($1.0m). The film opened at the top spot in France and Spain, and in UK/Ireland if the Thursday previews are included (beating Saw X).
Edwards previously directed franchise titles Godzilla ($525m worldwide) and Rogue One: A Star Wars Story ($1.06bn). Before that, he made his name with 2010 indie sci-fi drama Monsters.
Set in the mid-21st century,The Creator stars John David Washington as a former US soldier caught up in a battle between East and West over the use of AI technology.
'Saw X' puts franchise back on track with $29m opening
UPDATE: Lionsgate's Saw franchise stumbled in 2021 with the ninth film in the series Spiral, but now looks to be back on track with Saw X, starring Tobin Bell as the ingeniously vengeful Jigsaw.
Saw X has debuted in North America with a confirmed $18.3m, and in 50 international territories generating $11.6m. The numbers combine to deliver a $29.9m global opening.
In North America, the $18.3m launch compares with an $8.8m debut for Spiral, and $16.6m for eighth Saw film Jigsaw in 2017.
Adding in the international result, in like-for-like territories the global opening is 11% ahead of Jigsaw.
Top-performing international territories are Mexico ($2.2m), UK/Ireland ($2.4m) and Brazil ($953,000). For Mexico that's the largest debut ever for the Saw franchise, while UK and Brazil numbers are in line with the launch of Jigsaw. The next major territory to open will be the Netherlands on October 19.
Saw X is already 72% of the way to reaching the disappointing $40.6m global total for Spiral. A more-ambitious goal will be to match the $103m reached by Jigsaw. With a production budget reported at $13m, Saw X looks sure to be a profitable film regardless of what happens next.
Kevin Greuters (Saw VI and Saw 3D, aka Saw VII) directs. Set between the events of Saw and Saw II, the film sees protagonist John Kramer (aka Jigsaw) taking revenge on scam artists behind a fake miracle cure for cancer at a clinic in Mexico.
Chinese films dominate global office over holiday weekend
A confluence of China's annual National Day (October 1) and the moveable Mid Autumn festival has created an eight-day Golden Week holiday for many in the country – and a glut of powerful new film releases.
Three new titles enter the global top five, led by Zhang Yimou drama Under The Light, debuting with $54.8m for the weekend and $61.9m including previews. Next comes Tian Yusheng's romantic comedy sequel The Ex-Files 4: Marriage Plan, launching with $41.4m, and $53.8m cumulative. Landing in fifth place globally is Chen Kaige's patriotic The Volunteers: To The War, beginning with $30.8m for the weekend and $34.5m in total. This first part of a trilogy celebrates the achievements of China during the 1950s conflict known in the west as the Korean War.
Also in Comscore's worldwide top 10 chart for the weekend is Yau Herman's action comedy Moscow Mission ($23.0m including modest previews).
South Korean hit Dr Cheon And The Lost Talisman ($7.8m debut) makes it five Asian titles in the top 10 chart. Released for the local Chuseok holiday season, the exorcism-themed comedy stars Gang Dong-won as a sorcerer.
Given that The Creator is almost entirely set in Asia, and significantly filmed there in authentic locations, the current global market for film is showing a strong dominance from the continent. With the setting of The Nun II and A Haunting In Venice respectively in France and Italy, and Saw X in Mexico, the current worldwide top 10 overall offers a distinctly international flavour.