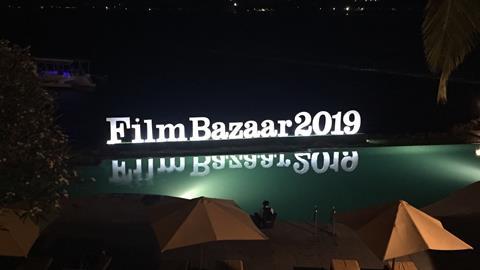 Natesh Hegde's Pedro and Ajitpal Singh's Swizerland were presented with the Prasad Lab DI Award and Moviebuff Appreciation Award at the close of Film Bazaar, organised by India's National Film Development Corporation (NFDC), on Sunday night.
The two projects were selected from the five that participated in Film Bazaar's Work-in-Progress (WIP) Lab. Prasad Lab DI and Moviebuff Appreciation Awards were also presented to one incomplete project in the Film Bazaar Recommends section – Where Is Pinki?, from Prithvi Konanur.
The awards include free digital intermediate (DI) provided by Prasad Labs, two DCI DCPs and trailer promotion worth $2,800 from Qube and an account worth $500, which can be redeemed during Qube Wire deliveries. Prasad Labs also announced that it would offer a 50% discount on DI to the three remaining films in WIP Lab.
In addition, Pushpendra Singh's The Shepherdess And The Seven Songs won the VKAAO WIP Lab Award, which includes a certificate from theatre-on-demand platform VKAAO and a theatrical distribution deal with PVR Cinemas.
VKAAO FBR Awards went to two films – Achal Mishra's Gamak Ghar, chosen among completed films by a debut director, and Rajat Kapoor's rk/rkay, among completed films by a non-debut director.
The VKAAO FBR awards were selected through an audience vote based on the open pitches in Film Bazaar Recommends and screenings in Film Bazaar's Viewing Room. Each of these films won a certificate from VKAAO and will receive a 75% discount on theatrical distribution.
Film Bazaar projects on the festival circuit
At least four of the award-winning projects from last year's edition of Film Bazaar have been completed and found success on the festival circuit this year. Bhaskar Hazarika's Aamis premiered at this year's Tribeca Film Festival and Kislay's Just Like That (Aise Hi) received a Special Mention from the New Currents jury at Busan International Film Festival.
Prateek Vats' Eeb Allay Ooo! premiered at Pingyao International Film Festival and won three prizes in the India Gold section of Mumbai Film Festival, including the Golden Gateway award for best film, a special jury mention for best male actor (Shardul Bhardwaj) and best film in the Young Critics' Choice Award. Saurav Rai's Invitation (Nimtoh) was also selected for Mumbai where it won the grand jury prize for screenwriting.
After being selected for Film Bazaar's WIP Lab in 2018, Eeb Allay Ooo! also took part in the PJLF Three Rivers editing residency, which has also had success with award-winning Indian films such as Village Rockstars and The Fourth Direction (Chauthi Koot).
As in previous years, this edition of Film Bazaar was well attended by international sales agents, including Picture Tree International, Stray Dogs and Fortissimo Films, along with Hong Kong and Beijing-based sales agents such as Asian Shadows and Rediance. In total, 1,116 delegates from 36 countries attended the market, compared to around 890 last year.
Skills Development added to FB workshops
New developments this year included a Skills Development Workshop, aimed at film school students, in addition to the regular Producers Workshop for more experienced industry newcomers. Mentors for the Skills Development programme included actor Adil Hussain, filmmaker Meghna Gulzar, producer Subhash Ghai and lyricist and screenwriter Prasoon Joshi, who is currently chairman of the Central Board of Film Classification (CBFC).
Speakers at the Knowledge Series seminar programme included Indian filmmakers such as Vishal Bhardwaj, Anup Singh and Shanker Raman, writers Atika Chohan (Margarita With A Straw) and Sharat Katariya (Dum Laga Ke Haisha) and producer Shobu Yarlagadda (Baahubali).
International speakers included SK Global Entertainment head of production Killian Kerwin, Rights Stuff managing director Wendy Bernfeld, Museum of Modern Art curator Josh Siegel, New Zealand film festival director Marten Rabarts and Sydney film festival director Nashen Moodley.
Film Bazaar took place November 20-24 at the Marriott Resort in Goa, India.