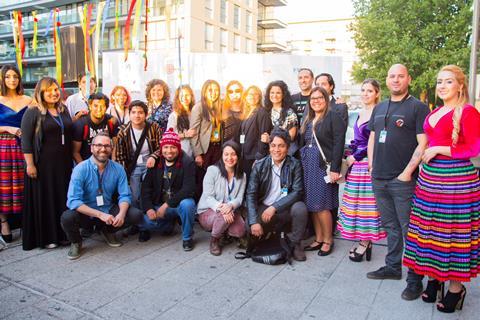 The Peruvian delegation in Ventana Sur is gathering market intelligence as it prepares to launch the country's first national film commission and incentives by 2019.
Delegates from promotional body PromPeru and the ministry of culture have been meeting peers at the Latin American Film Commission Network and industry attendees in Buenos Aires this week.
"We want to bring productions to Peru," PromPeru's country brand director Mariella Soldi Vargas said. "We don't have rebates but we're working with the hotels, transport, restaurants and other businesses to give content creators discounts at the front end. The idea is that a big international company that comes to Peru and works with a local one will get back the 18% sales tax."
"We're a growing industry," the ministry of culture's coordinator general Natalia Graciela Armes Ramello said. "Three years ago there were only 12 Peruvian productions a year getting theatrical release. Now it's 30. Outside that there is also animation, TV and a range of audiovisual content."
Ramello added that the Peruvian government offers an annual fund of $2m for filmmakers and she said lawmakers are expected to enact new legislation in early 2018 that will triple the allocation and extend it to all audiovisual content creators.
"Peruvian filmmakers are travelling to festivals and are having success at events like Annecy," Ramello said. "Claudia Llosa's The Milk Of Sorrow won the Berlinale Golden Bear in 2009 and we have had short films in Cannes in recent years. We have private film schools now and it has become possible to make a living out of cinema, which wasn't possible a few years ago. It's related to the fact that the ministry of culture is very young – it was established in 2011 and in that time it's helped the funding of cinema."
Vargas added that production costs were low in Peru and local expertise offered services from development to post-production. She also highlighted the country's scenic diversity, a popular and important factor touted by national representatives. "You can get from the beach to the Andes in six hours. We have coastal beauty, mountain regions, and jungle here," she said, adding that PromPeru worked with audiovisual content creators to facilitate permits help filmmakers wherever possible.
PromPeru has brought 20 companies to the Buenos Aires event, among them El Navegante Films with We're All Sailors (Todos Somos Marineros), which screens in Primer Corte on Thursday (November 30), and Red Animation with The Kingdom In The Clouds (Un Reno Entre Las Nubes) in Animation! Pitch.
Red Animation partnered with animators in Argentina, Brazil and Ecuador on the series Siesta Z that earned an international Kids Emmy nomination last month ahead of the awards show in April 2018.
Peru's talent is on the radar of industry professionals. A year ago Los Angeles-based Cinema Management Group met Tunche Films at Ventana Sur and shortly thereafter acquired sales rights and helped with funding for Ainbo: Spirit Of The Amazon, a 3D CGI animation that has sold around the world in Cannes and the AFM earlier this month.
For further details click here to see PromPeru's new website.